Mission accomplished as refurnished Leeds Media Centre opens its doors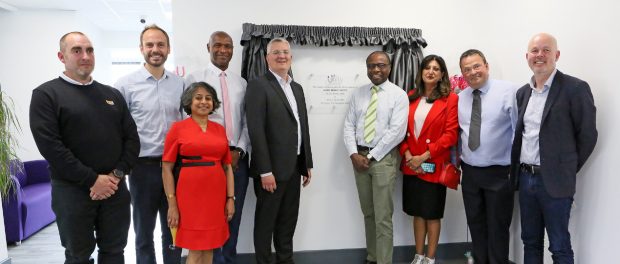 The leader of Leeds City Council, Cllr James Lewis, and the chair of Unity Enterprise, Sharon Jandu OBE, have jointly unveiled a plaque to celebrate the opening of a fully refurbished Leeds Media Centre as a prime location for aspiring entrepreneurs to achieve their business dreams.
Internal and external works on the building in Chapeltown got underway last autumn to install a new roof and windows, and remodel two floors to create 12 new business units together with a specially designed business hub equipped with hi-tech virtual facilities.
The £1.8 million scheme, delivered by Unity Enterprise – a not-for-profit subsidiary of housing association Unity Homes and Enterprise – in partnership with Leeds City Council, was part-financed by the European Regional Development Fund.
Leeds Media Centre is owned by the Council and managed by Unity Enterprise on a long-term lease.
Addressing a large gathering of guests at the unveiling ceremony, Cllr Lewis said he was delighted to see the project delivered on time and on budget.
He said:
"This is something we are really proud to be part of, to see a building we own as a Council being renovated into a new phase of its life as part of our work in developing an inclusive and stronger economy in Leeds.   I firmly believe that only happens when everyone in the city can fully engage.

"We are clear that entrepreneurialism and innovation are not just things that involve a small number of people with high qualifications.

"It's actually about letting people in the city use their graft and talents to grow businesses and make a good living for themselves.

"I really look forward to hearing about the success and growth of the project in the years ahead."
Sharon Jandu OBE, Unity enterprise chair, said:
"I've seen how tirelessly my Unity colleagues have worked to pull this together. The Council has really understood the purpose and values of exactly what Unity Enterprise is all about.

"I lived in Chapeltown for eight years and a lot of my family is still here.  This centre is exactly what we need – really creating those business opportunities and helping local communities.

"I am so pleased that Leeds City Council has had that vision. Rather than putting something like this somewhere else, putting it into the heart of Chapeltown so that communities can engage is so important.

"They feel that it belongs to them – those values, that purpose, building that trust with local communities on their doorstep. That is really powerful."
Welcoming guests to the centre, Cedric Boston, Unity Homes and Enterprise chief executive, thanked the Council and Unity staff for completing "one of the most difficult and complicated projects" he had been involved with, adding, "they have done a fantastic job."
He said:
"At Unity, we believe that ingenuity is everywhere.

"What we're trying to do with this project is to give people in the surrounding community an opportunity to realise their ambition to start their own business.

"So many people in communities spend their whole lives without being able to showcase their talent and what they can offer.  This project, in a small way, is trying to offer some people an opportunity to showcase their talent to the world.

"We have got a great group of people behind it and some really fantastic partners.  Hopefully we will be here meeting the needs of generations for quite some time to come."