Carter Jonas Achieves Planning Consent for Homelessness Charities in Cambridge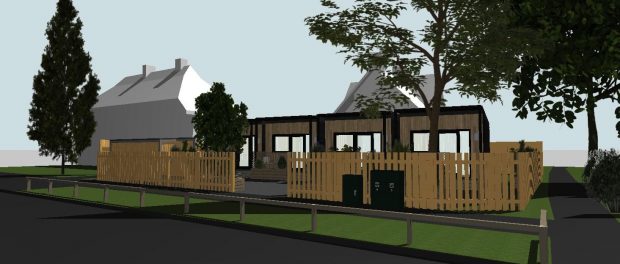 National property consultancy Carter Jonas has secured planning consent on behalf of It Takes A City Community Land Trust (ITAC CLT) to create new homes for the homeless on Hills Avenue, Cambridge. Consent was awarded by Cambridge City Council in August. The first site for the charity, this scheme will be up and running early in 2024.
The scheme will consist of four small homes constructed using modular technology which have been built off-site. The scheme will be built by the New Meaning Foundation, which employs and trains young disadvantaged adults who are themselves at risk of homelessness.
The number of homeless in Cambridge is growing: in November 2022, 23 rough sleepers were identified, an increase of nine on the previous year. In March this year, 80 single homeless people were in temporary accommodation and a further 200 in hostels.
ITAC CLT's mission is to bring organisations and finance together to provide supported homes for the homeless, using relocatable modular homes on either temporary or permanent land in Cambridge.
Residents are identified as having 'low to medium needs' and will receive a comprehensive support package from ITAC, including regular visits from staff and volunteers, and direction to a wide range of statutory and voluntary sector organisations. Homes are small, fully equipped and self-contained, easy to run, hi-tech and environmentally friendly. The development also includes a bin and bike store, and landscaped areas with opportunities for residents to garden.
Chris Jenkin, Chair of ITAC CLT commented,
"This is a very exciting moment for ITAC CLT, after a lot of hard work by so many people and much generous support. Carter Jonas has been supporting us from the beginning of our search for land. Although we are not a commercial developer with deep pockets, their advice and help has always been timely and professional.

"Excellent work by many is starting to transform the journey away from the street, even for the most entrenched rough sleepers. Our work at Crossways community hub is transforming winter provision in the city, and we aim to provide the same 'walk alongside and coordinate' support model in our modular housing schemes, to reconnect people to their community and provide wrap-around care.

"There are many who are waiting for the chance to be in their own home. While perhaps just a dent in the problem, a successful scheme that demonstrates a financially sustainable model could unlock finance and land for further schemes."
In achieving this planning success, Carter Jonas worked alongside Archangel Architects, Bidwells Property Consultants, Ligna Consultancy and Stantec.
In July, Carter Jonas achieved consent for a three-year extension to a temporary permission for modular homelessness accommodation on Newmarket Road in Cambridge on behalf of Allia. This scheme comprises six modular units, one of which will be occupied by a warden, with Carter Jonas achieving the original planning consent back in 2019.
Using modular homes enables the two charities to utilise land that cannot be used for traditional housing. The modular units have a minimum 60-year guarantee and can be installed and deinstalled in a day.
John Mason, Associate at Carter Jonas in Cambridge commented on the two planning successes,
"At Carter Jonas we are very pleased to assist in the journey away from the street and we have great faith in charities such as ITAC CLT to transform the lives of even most entrenched rough sleepers.

"Doing so is not easy, and this was clear in the hour and a half during which the City Council's planning committee debated the Hills Avenue scheme. However, we hope that the resulting decision to approve it will encourage more support for these schemes in the future."