Building Systems UK products used for new Kohler Mira distribution centre in Worcester Six Business Park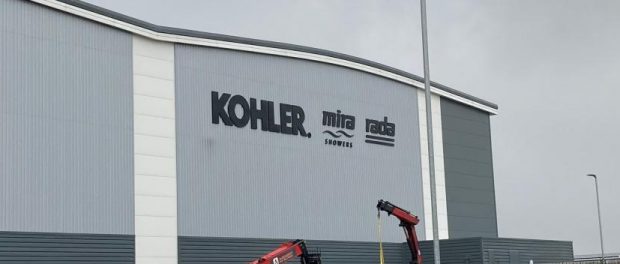 Client: Kohler Mira
Main contractor: Benniman Construction
Roofing contractor: FK Group
Products: Trisobuild® roof and wall, Trimapanel® and Colorcoat HPS200 Ultra®
Fire related approvals: LPCB and FM approved
Year: 2022
Location: Worcester
Mira showers opened their new distribution centre at Worcester Six business park in the Spring of 2022 utilising a building envelope designed with the specifications of Building Systems UK site-assembled and insulated panel solutions for roof and wall cladding. The building, covering 158,000 sq ft, can store up to 10,000 pallets and sits on an 11.25-acre site allowing room for a potential further expansion to add another 100,000 sq ft facility in the future.
It is the Kohler Mira Group's most advanced and automated global distribution centre and was built with sustainability front of mind, in line with the groups desire to be carbon neutral by 2035.
Work began in 2019 and the distribution centre was opened in March 2022 by Craig Baker, managing director at Kohler Mira.
THE CHALLENGE
Kohler Mira Group wished to create a world-leading distribution centre, where the building envelope would support in three key areas.
The first of these areas was to ensure a comfortable working environment for its employees. The second was to create a protected space for the complex systems and processes handling thousands of products every day for Mira's customers all over the world.
Finally, in line with the company aim to become a carbon neutral company by 2035, the design needed to deliver an energy efficient, sustainable building envelope with the capacity to generate renewable energy to power both the facilities and return unused electricity to the grid.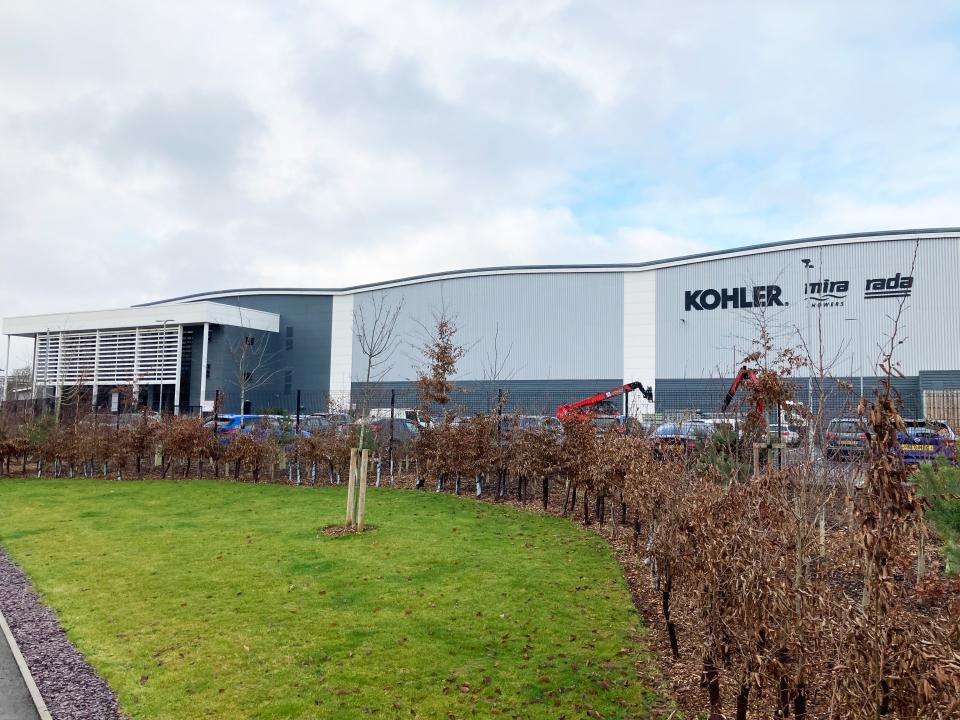 THE SOLUTION
Building Systems UK (A Tata Steel Enterprise), worked with UMC Architects and were able to offer them a wide range of responsibly sourced, sustainable walling and roofing products from one single source UK manufacturer. This enabled the creation of an optimum building envelope solution to meet structural, energy efficiency and air tightness requirements, as well as offering a wide choice of aesthetic colours and finishes to create the visual impact required.
Building Systems UK's Trisobuild® site assembled roofing and cladding system was chosen with over 19,000 linear metres used for the roof and nearly 5,800 linear metres to form the walls. The Trisobuild® system can be tailored to meet the specific requirements of a project by offering design flexibility of internal and external profiles ranging from 19mm to 46mm deep. For this project, R32 and C32 profiles were chosen for most of the roof and wall profiles respectively and came with Colorcoat® prefinished steel in a range of colours.
By specifying wall and roof products from Building Systems UK with Colorcoat® products, Mira Showers were reassured by the supply of the 40-year Confidex® Guarantee covering the long-term performance of the finish. As the roof was going to be housing 1,560 solar panels, Trisobuild® with Colorcoat HPS200 Ultra® pre-finished steel was chosen. The Colorcoat HPS200 Ultra® pre-finished steel included a Galvalloy® metallic coating for the ultimate corrosion resistance and cut edge performance and, as the Confidex® guarantee covered its use under a PV array, it was the perfect choice for the project.
WALLING SOLUTION
In addition to Trisobuild®, Building Systems UK's 70mm thick insulated Trimapanel® was also selected for around 3,000 linear metres of wall on the project. These insulated, secret-fix wall-cladding panels are manufactured in accordance with BS EN 14509 'Self-Supporting Double Skin Metal Faced Insulating Panels – factory made products' and allow quick and easy installation for fast build times. The secret fix joint design of the Trimapanel® product allows the primary fixings to be hidden from view enhancing the external aesthetics of the building. Trisobuild® also comes with Loss Prevention Certification Board (LPCB) approval to LPS 1181 part 1 for fire performance, helps to lower insurance premiums.
Liner profiles from Building Systems UK were also used on the project to provide an attractive and clean internal finish to the walls and ceiling. Over 13,000 linear metres of RL32 liner was specified and this was able to offer the additional benefit of acting as working platform during the construction stage of the project.
By specifying all the roof and cladding products through BSUK, the architect and client could be confident that the walls and roof of the distribution centre would work together seamlessly to provide a robust external envelope. Both Trisobuild® and Trimapanel® are third party certified for quality, fire safety, acoustic and thermal performance, as well as air tightness and water penetration. In addition, due to Tata Steels commitment to sustainable practices, both products are also certified to BRE's framework standard BES 6001, allowing maximum credits to be obtained in the responsible sourcing of materials section in BREEAM.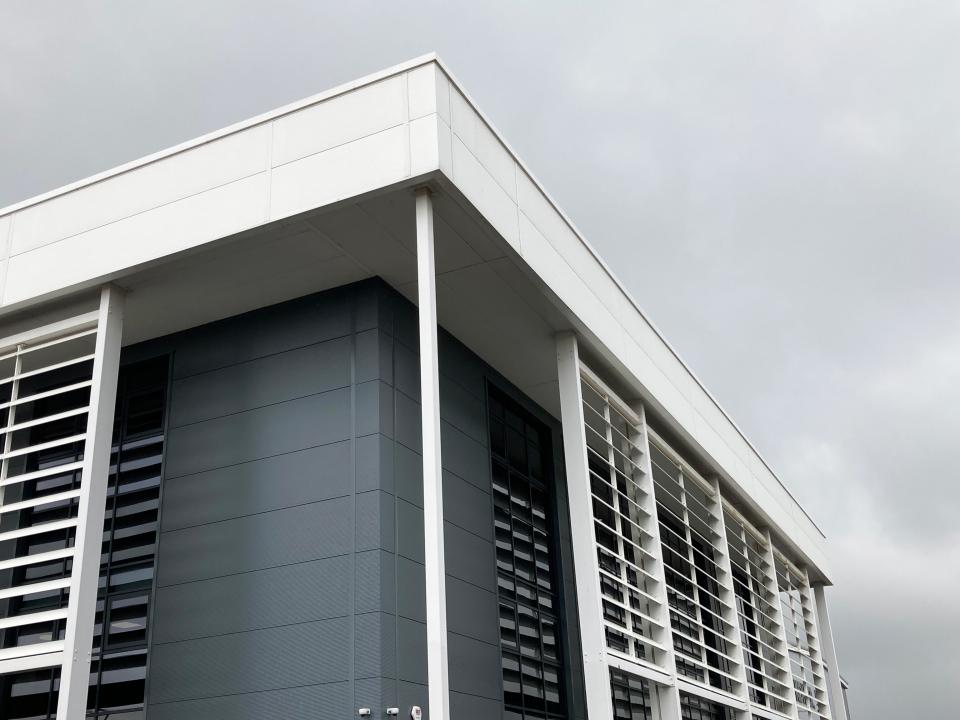 THE DETAILS
Building Systems UK could also offer a wide range of flashing, ancillary items and fabricated corners to add the finishing touches to the distribution centre to deliver the desired aesthetic look of the project.
The correct installation of all panels and ancillary products is vital and Building Systems UK supplied a raft of standard junction details as a step-by-step guide to ensure that all interfaces were correctly constructed. In this way the wall and roof panels could be joined correctly to form a building envelope for the distribution centre with low air permeability to help enhance its energy efficiency and lower its CO2 emissions.
25 YEARS OF PEACE OF MIND
For extra reassurance the Kohler Mira distribution centre is covered by a Platinum Plus 25-year building system envelope guarantee. Building Systems UK worked with UMC Architects to create a bespoke Platinum® Plus specification that considered how the components used on the project influenced and interacted with each other and what impact that would have on building design and performance.
The comprehensive guarantee included such items as panels, pre-finished steel, stainless steel fasteners, sealants, fillers and flashing and gutters and came with a list of recommended installers for the project. Building Systems UK's technical experts visited the site during the construction of the building to ensure that the agreed specification was being followed.
Using proven products from Building Systems UK (A Tata Steel Enterprise), backed by their team of experienced construction professionals, allowed for the smooth delivery of Mira Showers most advanced distribution centre. It achieved a BREEAM rating of 'very good' and after the installation of 1,560 solar panels on the Trisobuild® roof, Kohler Mira announced in April 2023 that the facility was now officially carbon neutral with half of the 560,000 kilowatts of power generated per year is being used by the facility and the rest exported to the grid.
CONTACT US
Building envelope sales enquiries, customer and technical support.
Building Systems UK technical team – Building Envelope
+44 (0)1244 892199, technical.envelopeproducts@tatasteeleurope.com