First homes near completion as new show homes to open at Quantum Fields in Littleport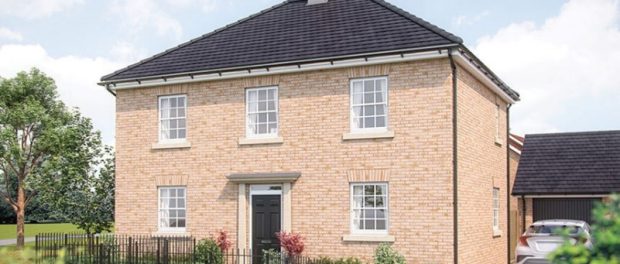 The first residents are due to move into their new homes at Vistry Group's Quantum Fields location in Littleport next month (February).
Vistry, which is building 680 new homes under its Linden Homes and Bovis Homes brands at the development off Grange Lane, is also set to throw open the doors to two show homes on Saturday 18, and Sunday 19 February. Where there will be exclusive launch weekend offers for potential buyers.
The four-bedroom Knightley detached house will be opened to showcase the Linden Homes properties on the site, while the four-bedroom Chestnut will be unveiled to demonstrate the layout and finish of typical Bovis Homes properties.
Both Vistry brands at Quantum Fields will also be opening view homes during the launch weekend. These will be Linden Homes' four-bedroom Leverton, and Bovis Homes' three-bedroom Spruce, allowing visitors to see the spacious rooms without any furniture.
Laura Thomas, sales manager for Quantum Fields, said: "This location is really starting to take shape thanks to the dedication and hard work of the site team and we are looking forward to welcoming the first residents into their new homes next month.
"This will be a milestone in the life cycle of this site as it will mark the first people making their homes on the development and starting to transform it from a collection of buildings into a living, breathing neighbourhood. Quantum Fields will make a significant addition to the housing provision in this part of Cambridgeshire, particularly as we are delivering a wide range of homes with a variety of different sizes and designs."
Vistry is to build 680 homes at Quantum Fields in a joint venture with Evera Homes, who will be managing the affordable housing at the development.
Construction work is progressing well on the first phase of 360 properties, which will include 144 affordable homes for rent or shared ownership and 216 homes for private sale under the Bovis Homes and Linden Homes brands.
Laura said: "These impressive show homes give our sales teams the chance to showcase the quality and high specification that come as standard with a Bovis Homes or Linden Homes property. The homes also represent the first opportunity would-be buyers have to look inside a fully furnished and decorated property on the development.
"The Knightley and the Chestnut will appeal to a variety of buyers but are principally designed for growing families needing flexible internal space that can be adaptable over time.
"Their downstairs layouts feature a variety of spaces, including a large kitchen/dining room and a separate living room both with doors to the garden, plus a study or family room which can provide a working-from-home zone, a playroom for young children or a TV room for teenagers.
"These properties will also be attractive to professional couples who both work from home and need separate office spaces, giving them the option to use the rooms downstairs or convert one of the four bedrooms into an office or even a personal gym."
Vistry Group was formed in 2020 and incorporates Linden Homes, Bovis Homes and Vistry Partnerships.