MC Construction builds new £1.3M innovation lab for Macfarlane Packaging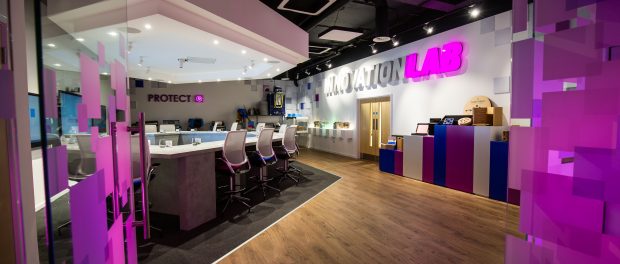 A new £1.3m packaging Innovation Lab built by Salford-based MC Construction has been unveiled by Macfarlane Packaging at its flagship North West Regional Distribution Centre.
The North West Innovation Lab, at Macfarlane Packaging's regional hub in Heywood, Greater Manchester, is designed to create same-day solutions for the most demanding packaging challenges and fully test them to withstand the rigours of supply chain handling.
The 5,000 sq ft customer facility is fully equipped with the latest software designed to reduce total cost and assess the CO2 equivalent impact of packaging.
It features full design, digital print and CAD prototyping facilities, including augmented reality tools. It also houses a showroom demonstrating the latest packaging automation machinery and specialist industry standard testing equipment.
MC Construction has created a new customer entrance and canopy, design office, sales and presentation suite, testing and print workshops and storage and kitchen areas, with air-conditioning and ventilation throughout.
The architect for the project was Halliday Meecham. Other professionals involved in the scheme include WML Consulting and Robert Whetham Associates.
The new Innovation lab aims to replicate the success of Macfarlane Packaging's first facility of its kind in Milton Keynes, which opened in 2016.
MC Construction director Chris Purcell said:
"We're thrilled to have successfully delivered the new North West Innovation Lab for Macfarlane Packaging.

"It's a pioneering project for the region which provides an interactive space to support customers in identifying opportunities to lower their operational costs, enhance their customer experience and reduce their carbon footprint.

"It was a pleasure working with Macfarlane Packaging throughout the design and construction phases of this project, and we wish the company and its customers every success with the new facility."
Macfarlane Packaging is part of Macfarlane Group PLC, a leading manufacturer and distributor of protective packaging products to a wide range of sectors, including food manufacturing, logistics, internet retailing, mail order, electronics, defence, aerospace and pharmaceuticals.
Its 88,000 sq ft north west distribution centre opened last year following an investment of more than £1m. Located on the Heywood Distribution Park, it provides Macfarlane Packaging with additional capacity to serve its customer base across the north west, North Wales and the Midlands, and to support regional growth.
Among the products distributed by Macfarlane are cardboard boxes, postal packaging, bags, protective and sustainable packaging, strapping, stretch film, polythene, chilled packaging, packing tape, stretch and pallet wrap and packaging equipment such as tools and machinery.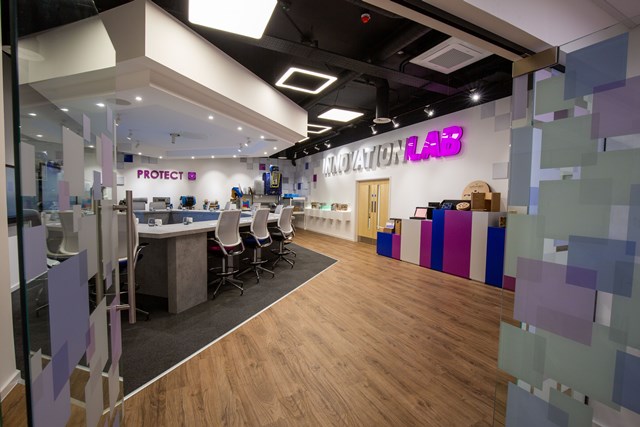 Rachel Fellows, national account director at Macfarlane Packaging, said:
"At Macfarlane, we are focused on protecting our customers' products with packaging that's tailored to their business needs and goals, while reflecting their brand and minimising the impact on the planet.

"Our North West Innovation Lab is uniquely equipped to help us do that and I am confident that it will be an asset for our customers – existing and new – as we work together to ensure their products are effectively and efficiently protected on their route to market.

"The north of England is famous for its industry and innovation. Our North West Innovation Lab is ready to support customers locally and internationally to protect their products, profits and environmental goals."
Richard Garratt, head of design at Macfarlane Packaging, said:
"Ongoing investment in our Innovation Labs allows us to push forward with the latest tools and technology to deliver creative solutions that reduce cost, improve sustainability and enhance customer experience.

"The new centre offers market-leading testing capability, including technical offering with ISTA testing, load containment and climatic conditioning, all accessible remotely through an advanced video conferencing system that connects our UK and European operations together."