2N white paper pronounces the technological revolution currently transforming access control as 'Access control 3.0'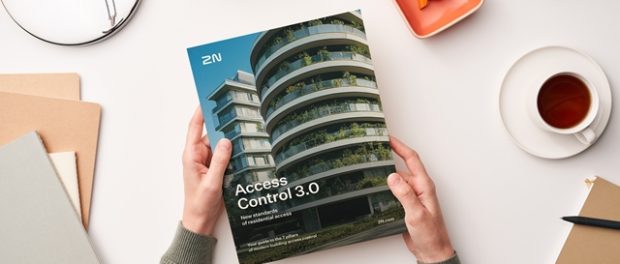 Defined by IP technology, Access Control 3.0 follows the first two revolutions in building access control: lock & key devices and RFID cards
The White Paper outlines the seven pillars of Access Control 3.0 and provides a guide for developers, property managers and system integrators to help them future-proof projects and gain a competitive advantage
2N, the global market leader in internet-enabled intercoms and access control systems, has published a new White Paper entitled 'Access Control 3.0: the new standards in residential access'. The White Paper argues that we recently entered a new era in access control which represents a technological revolution in the industry – and it is one which is already having a transformative impact worldwide.
Over the last 6,000+ years, access control has progressed through three crucial stages:
The first access control revolution, Access Control 1.0, was inaugurated by the earliest lock and key devices. The oldest we know of was found in the ruins of Nineveh, the capital of Assyria, and is from around 4,000 BCE.
Access 2.0 began when Charles Walton, an American inventor, received the first US patent for a passive RFID (radio frequency identification) device, which enabled key cards and enhanced the security of door-locking systems.
The third access control revolution, Access Control 3.0, is characterised by seven pillars:
IP technology: IP technology has transformed access control. It has enabled the development of smart and fully customisable solutions. As well as being easy to install, IP technology is simple to scale and integrate into complex security and home automation systems.
Mobile access: Smartphone access control is one of the key components of the Access Control 3.0 era. Driven primarily by a desire for convenience, industry forecasts indicate exponential growth in mobile credentials over the next few years.
Multi-user technology: Integrating IP intercoms and access readers into a single device delivers flexibility. It enables users to choose between different credentials (for example, a single device can support smartphone access, fingerprint scans, RFID cards, and/or a PIN code simultaneously) and is also capable of distinguishing between those people who require authorisation (guests and other visitors) but those who do not (pre-registered tenants and staff).
Remote management: IP technology has also enabled access control systems to be managed remotely, in real-time. This has made a huge difference in residential buildings, where building managers are able to monitor many devices from one place, enabling problems to be identified early and addressed immediately.
Cybersecurity: While the connectivity of technology enables greater efficiency, it also exposes new entry paths for cyber-attacks. Cybersecurity has therefore become a top priority in the Access Control 3.0 era.
Environmental, social and governance (ESG): The access control industry is as shaped by consumer (and employee) expectations around ESG as every other sector.
Privacy and the protection of personal data: The use of modern technologies carries with it an increased risk of personal data being misused. This is now a primary concern for access control companies, particularly those in Europe who must comply with the General Data Protection Regulation (GDPR).
Michael Nicholson, Business Development Manager for the UK & Ireland at 2N, said:
"IP technology has initiated a technological revolution in access control which is having a transformative impact on security, convenience and reliability. It will continue to define industry standards and consumer expectations for years to come, and it will do so worldwide. That is why it is right to call this the Access Control 3.0 era. It is also why it is so important for developers, property managers and system integrators."


2N's white paper is available here: Access Control 3.0: the new standards in residential access