Manningham Housing Association awarded top ratings by Regulator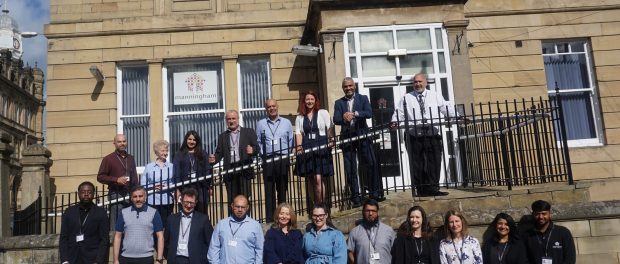 Manningham Housing Association (MHA) has retained the highest possible gradings from the Regulator of Social Housing following an In-depth Assessment. These normally take place every three to four years to decide if a housing association meets the Regulator's governance requirements and has the financial ability to deal with any adverse events.
In-depth Assessments are carried out through an inspection of key documents, visits and meetings with the association's staff and Board members. The Regulator has just announced that MHA has been awarded a G1 rating for governance and V1 for financial viability.  The formal judgement follows a remarkable run of success for MHA, which manages more than 1,400 homes for over 6,000 residents in Bradford and Keighley.
Founded in 1986, it is the first housing association in the country to be officially accredited for its work in promoting equality, diversity and inclusion.
In the past year, MHA has won the Northern Housing Team of the Year Award, Northern Housing Tenant of the Year Award, Housing Heroes Tenant of the Year Award, West and North Yorkshire Chamber Equality Trailblazer Award and British Standards Institution Users Award for Sustainability.
It recently retained its Customer Service Excellence national quality mark after a 12-month review with the independent assessor describing MHA as "an exemplar of a diverse and inclusive organisation, with all associated with it committed to providing an excellent service for tenants and the community."
Lee Bloomfield, MHA Chief Executive, said:
"We are thrilled to receive the Regulator's judgement which confirmed that we continue to be rated in the top category of housing associations in the country.

"We regard ourselves as a family and this is a collective achievement for everyone involved with MHA including Board members, staff, tenants and project partners.

"As well as providing high quality affordable homes – around 75 per cent of our properties are large family homes with three or more bedrooms – our reputation is built on our work in local communities.

"These activities will continue to grow with many more exciting times ahead."
Barrington Billings, Chair of the MHA Board, said:
"This is a fantastic outcome.

"An In-depth Assessment is a thorough investigation into everything a housing association does.

"It is a challenging process which is why emerging with a G1 V1 grading is such a cherished outcome.

"As Chair, I congratulate the efforts that everyone put in to achieve this outstanding result.

"It is another proud moment for MHA and a ringing endorsement of the clear benefits and resounding effectiveness of an inclusive community based housing service."