Irish Cranes installs four Raimondi flat-tops for Walls Construction on major new seafront development in Dublin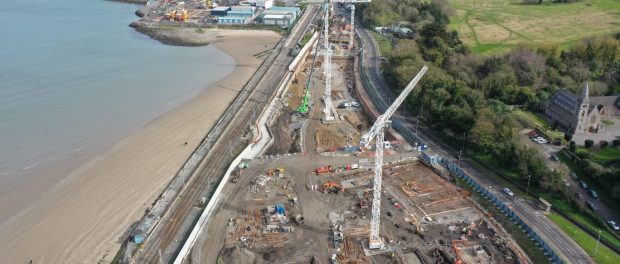 Official Raimondi agent of Ireland, Irish Cranes & Lifting, deployed four Raimondi MRT234 flat-top tower cranes for the construction of a new mixed-use development in Howth, a suburb of Dublin, Ireland.
"Irish Cranes is proud to play a role in this pivotal project by supplying four Raimondi MRT234 flat-tops to one of Ireland's largest construction companies, Walls Construction. Our continued work with Walls demonstrates the strength of a long-standing partnership; we are pleased to support them on this landmark development," stated Robert Coffey, Director General, Irish Cranes.
Claremont, developed by Marlet Property Group, is located along a section of the Irish Rail network, required detailed study of the positioning and operational procedures of each machine. As per Irish Rail requirements, prior to installation, each crane had to be fully insured, obtain specific permits, as well as a license agreement. In addition, once erected, each machine underwent a third-party independent inspection.
"From an operational perspective, during the installation procedures we had a series of guidelines to observe, including the supporting mobile crane allowed to slew only by 180 degrees. We had to install the cranes in parallel to the train tracks to avoid any component, including the counter ballast, oversailing the railway line. Worth noting is that a zoning of three meters away from the critical infrastructure has been permanently set for the entire site," Coffey explained.
Installed between March and April 2023, the MRT234s-12tn are onsite with jib lengths ranging between 44m and 60m, and heights ranging from a minimum of 37.5m to a maximum of 52.8m. All of the cranes, erected at a final configuration, are equipped with a hoist gear of 55kW, and are able to lift at a maximum speed of 120 m/min.
"In terms of technical challenges, to align with the existing regulations, all machines have been derated to 75% of their maximum lifting capacity, and one of the jibs has been shortened to avoid interference with a communications mast on the rail line," Coffey continued.
The four flat-tops will remain onsite until the project is completed. A seafront development overlooking the Irish Sea and Ireland's Eye, upon completion Claremont will be comprised of more than 500 residential units, and modern indoor and outdoor amenities alongside over 2,600 sq. m. of retail and commercial space.