Luton DART skills programme provides training to over 720 local people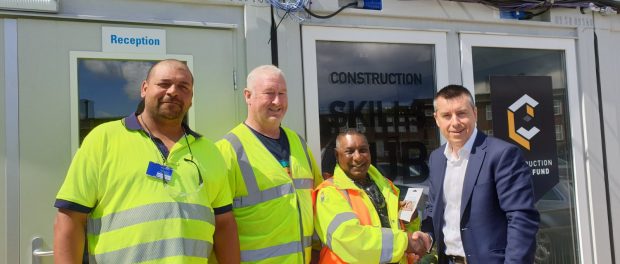 The Luton DART Construction Skills Hub has come to an end, after providing over 720 local people with the skills needed to help them enter the construction industry.
The joint venture programme, between VolkerFitzpatrick-Kier (VFK), Luton Council and its airport company London Luton Airport Ltd (LLAL), was created in November 2018 and included a three-day course which encompassed training in Level 1 Health and Safety Awareness, Manual Handling/Working at Height or Fire Warden, Careers in Construction and Emergency First Aid. All trainees were also able to take their Construction Skills Certificate Scheme (CSCS) test at the end of the three-day course.
More than 300 attendees were from traditionally under-represented groups and as part of the programme, VFK created over 80 permanent new jobs on the DART for local apprentices, graduates and other new entrants. One of these jobs has been filled by Glen, who before being referred to the academy was being supported by the Luton homelessness charity NOAH and has now been employed by one of VFK's subcontractors working on the project.
Cllr Aslam Khan, Luton Council's portfolio holder for skills and employability, said: "We are absolutely delighted to have been so successful with this programme which has provided genuine life-changing opportunities and a route to prosperity for hundreds of local people.
"Luton is enjoying massive transformation, with major regeneration and housing schemes offering a wide range of jobs in the construction industry, and we are on an important journey aimed at ensuring no-one in the town is living in poverty by 2040.
"Our commitment has been to ensure that local people get the right support and skills to benefit from the opportunities, and align training with the needs of local construction employers. Stories such as Glen's are an inspiration to us all."
Olivia Perkins, VolkerFitzpatrick-Kier senior project manager, said: "It has been a privilege for our joint venture to invest in Luton and at the same time help with recruiting the 400,000 people a year the construction industry needs.
"We have exceptionally talented people working in our business who have helped deliver large infrastructure projects across the country, and it has been fantastic to be able to pass these skills on to others wanting to enter the profession."
Cllr Andy Malcolm, chair of LLAL, said the scheme's focus is now switching to supporting even more of the trainees into permanent positions.
He said: "Improving people's lives in Luton is our main aim in our stewardship of London Luton Airport. In all of our development schemes across the town we look for innovative ways to make sure that our communities directly benefit. Our hope is that the iconic Luton DART continues to inspire people to actively consider a career in construction in Luton."
A spokesman for CITB said: "One of the factors in choosing Luton as one of the original CSF learning hubs was because the town boasts a huge range of significant construction work, including infrastructure and housing, and clearly has a need for skilled construction workers. This has been an exciting opportunity for local people seeking opportunities to join the sector and employers who are benefiting from an increase in skilled workers produced by this initiative."
The Luton DART (direct air-rail transit) is a major infrastructure project that will take passengers from Luton Airport Parkway station to the terminal of London Luton Airport in under four minutes. The scheme will be a double-shuttle, fully-automated people-mover, based on the latest system technology and design innovation, capable of operating 24 hours a day, seven days a week.