LOCAL FINANCE DIRECTOR SWIMS ENGLISH CHANNEL FOR THE OAKS SPECIALIST COLLEGE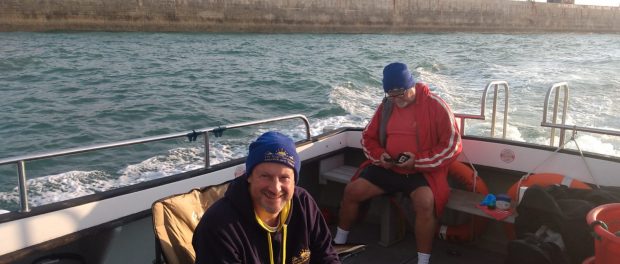 Kent-based homebuilder Millwood Designer Homes – soon to become Elivia Homes Eastern – is thrilled to announce the completion of an incredible 20.5 mile swim of the English Channel by its Finance Director, Rob Sisley. After not finishing the challenge in 2022, Rob was determined to complete the solo swim, successfully attempting – and completing it – for the second time on Wednesday 13th September 2023. This remarkable challenge was undertaken by Rob to raise money for The Oaks Specialist College, a not-for-profit education provider for 18 to 25 year olds with learning difficulties in Kent and East Sussex.
Rob's second endeavour started in Samphire Hoe, a 30-hectare nature reserve created by Eurotunnel at the foot of the White Cliffs of Dover. Accompanied by his pilot boat Anastasia which held three crew members, an official observer and two support crew including Millwood's Managing Director Nick Stonley, Rob started in the water at around 10.30pm on the 13th September. The water conditions were initially choppy but they improved throughout the swim. By 6.30am on the 14th September, Rob had entered French waters, before he eventually reached land in Strouanne at 1pm. Rob successfully completed the 33km challenge in an incredible time of 14 hours and 26 minutes.
Speaking of the swim, Rob comments: "I was really disappointed that I didn't get to complete the swim in 2022, so successfully finishing it in such a good time this year means a lot to me.  The Oaks is such an important charity in our local community, and I'm proud to have raised £3,750 to help fund the incredible work that they do. Thank you to everybody that has supported me on this journey, from the people on the frontline with me during the swim, to those that have donated – it is greatly appreciated."

Managing Director of Millwood Designer Homes, Nick Stonley, comments: "On behalf of everybody at Millwood, I would like to offer my heartfelt congratulations to Rob for completing such an astounding challenge. I was lucky enough to be in the pilot boat as one of his support team, and watching his determination to battle through the choppy waters of the Channel whilst swimming through the day and night to finish the challenge was just amazing. Rob has raised invaluable funds for The Oaks College, a charity which continues to provide tailored education for those with learning difficulties."
The completion of Rob's solo swim means that vital funds have been raised to help the students and teachers at The Oaks Specialist College. Rated 'Outstanding' by Ofsted, the college provides necessary education to 18 to 25 year olds with learning difficulties in Kent and the surrounding areas.  The college teaches students transferrable skills that will help them as they progress into adulthood, offering a curriculum which includes functional skills, employability skills, careers advice, work placements, enterprise projects and social wellbeing services.
Located a short drive from Tunbridge Wells, Millwood Designer Homes' latest collection of properties at The Brambles is situated in the charming village of Crowborough. Featuring a showstopping collection of 26 properties ranging from two bedroom apartments to four bedroom detached houses, homes are currently available to purchase off-plan. Further developments across the South East include Lanthorne Place in Broadstairs, Rectory Meadows in Plumpton Green and Paddock View in Lower Kingswood, Surrey.
If you'd still like to donate to Rob's fundraising efforts, please visit https://justgiving.com/fundraising/rob-sisley.