PICK EVERARD COMPLETES REFURBISHMENT OF MAJOR TRAUMA WARD AT LONDON HOSPITAL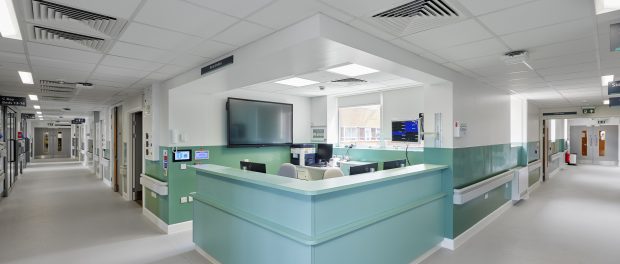 PATIENTS and staff on a London hospital ward are now benefitting from more efficient facilities following a completed refurbishment project by multi-disciplinary consultancy, Pick Everard. 
The major trauma ward at St George's University Hospitals NHS Foundation Trust in Tooting, has undergone operational and spatial improvements, including upgraded sanitary facilities, bedhead services and infrastructure elements such as power and ventilation. 
Pick Everard completed full RIBA Stage 1-6 delivery covering architecture, structural engineering, design management, health and safety services (CDM) and clerk of works.  
John Clarke, director at Pick Everard, said: "While the ward itself was isolated and completely shut down during the works, this project took place within a live hospital site requiring a high level of competence and care. 

"I believe much of the success can be put down to the collaborative approach between our in-house departments, which provided an effective, coordinated solution for the client. We were able to realise their design aspirations within the practical constraints of an existing building, project budget and demanding programme."  
St George's is one of the UK's leading teaching hospitals and is the largest provider of acute healthcare services in southwest London. It has one of the busiest emergency departments in the country and operates several major trauma wards, which were constructed in the 1980s. 
The major trauma ward's new design altered the existing arrangement to reduce overcrowding and bring it in line with current regulations. There are now four multi-bed bays containing 18 beds and four single rooms with ensuites, and two assisted showers. Clinical compliance spaces including a new treatment room and dirty/clean utility rooms were added, and the staff room and kitchen space were also improved with lockers for private storage. 
A new air handling unit (AHU) and UPS / IPS plant also needed to be installed on the ward's roof. This demanded careful coordination, as the existing roof contained a helipad and all associated services within a helipad cabin. To mitigate any conflicts with the operation of the helipad, the Pick Everard team conducted various design option studies and risk analyses on potential plant locations. This involved extensive consultations with the building's incumbent specialist suppliers and contractors to minimise disruption and mitigate risks during the construction phase.   
"While we have extensive experience in the healthcare sector, this was our first project with this particular NHS Trust," John added.  

"It was attained through the £1.6bn NHS Shared Business Services Framework that Pick Everard was recently re-appointed to. Originally, we were brought in for a feasibility study, but this became a full Stage 1-6 delivery – a great achievement for the team and reflective of our understanding and reputation in this sector." 
Due to the high number of stakeholders and end users within the project, consultation and engagement was a priority throughout. Pick Everard arranged regular meetings and workshops to ensure the end results would be compliant with the health building notes (HBN) and health technical memoranda (HTM) criteria, with all design proposals scrutinised by the client's technical advisers. 
A representative of the trust stated, said: "From the outset, the team at Pick Everard understood fully the needs of this refurbishment. They worked hard to understand the best way to deliver this effectively and within the difficult constraints of a live site, with deadlines and budgets considered. The result has been a fantastic overhaul of the Holdsworth ward that is now back up and running, and already we can see the difference in day-to-day operations, benefitting not only our patients but our staff also."  
For more information on Pick Everard and its services, visit: www.pickeverard.co.uk