Kier is first contractor in Liverpool to fund supply chain apprentices through Apprenticeship Levy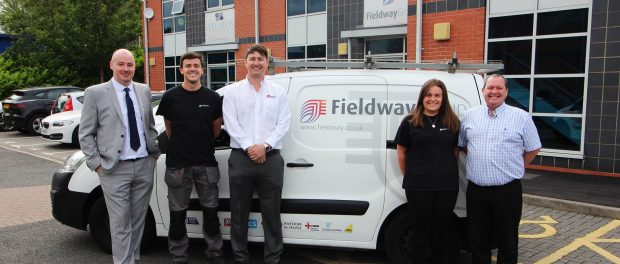 Kier, a leading infrastructure services, buildings and housings & developments group, is the first contractor in Liverpool to transfer funds from its Apprenticeship Levy to its supply chain in Liverpool.
The funds have been transferred to Fieldway, an established electrical contractor based in Liverpool, to upskill two of its current employees to management level through apprenticeships.
Peter Commins, managing director at Kier Regional Building North West, said: "We're thrilled to have been the first contractor in Liverpool to able to transfer some of our apprenticeship levy. Fieldway is a valued supply chain partner of ours and we have worked with them on a number of projects, most recently at the enabling works for Shakespeare North.
"Having the ability to support not only the upskilling and training of our employees, but of our supply chain employees is something I'm really proud of and I look forward to continuing to support both local apprentices in our region and the construction industry generally through the use of unspent levy."
Fieldway Managing Director Tony Carden highlighted how this wouldn't have been possible without this support, saying: "Identifying managers is important but SMEs don't always have the funds to support them and that's where the levy transfer comes in. We look at our staff development from the point of view of getting our new staff qualified in their specialist areas so they can work on site. What Kier and Sysco have done is enable us to take our training opportunities to the next level and we now have clear progression routes to management for established staff in our organisation."
Becky Dutton, Business Development Manager from Sysco, said: "For the Liverpool City Region to deliver it's aspiration of 20,000 new apprenticeships each year by 2020, more levy paying employers need to consider transferring levy funds and supporting their supply chain. Sysco has a long history of developing skills and knowledge across industries and the newly designed apprenticeships, funded by employers, are the perfect way to ensure organisations are prepared for the future. Kier have given Fieldway the opportunity to develop future leaders within its business, ensuring they have leadership with skills and knowledge needed to continue to prosper."
This news follows on from the Kier skills initiative in Liverpool. Last September, senior member of the Kier team, including Pater Commins, met at Liverpool Town Hall to discuss skills issues with Metro Mayor Steve Rotheram. Here, Kier discussed the success of its skills initiative in Liverpool, and revealed that in the last three years, it has taken on 85 new apprentices, organised work experience for 234 young people, employed 16 graduates and created 124 jobs for the local community.