70 Years of innovation from Doorfit
Reflection & Projection
Milestone anniversaries are always a moment for both reflection and projection, particularly for family run enterprises. Reflection, on the journey and achievements to reach the anniversary and projection, into the future to signpost the innovations ahead for customers.
At 70 years young, Doorfit has an enviable reputation for specifying and supplying high quality products in the areas of architectural ironmongery, timber doorsets, entrance doors and garage doors. The company is delighted to celebrate its history and share some insights on new directions.
Projection first!
Keen as ever to look forward, the Doorfit team knows that success has been built on delivering solutions that are responsive to customers' needs. Innovation is key to ensuring the offer remains fresh and relevant to today's market. The new Protus Timber Doorsets are a great example. Doorfit's deep and extensive experience with architectural ironmongery has been wrapped into a new product offering, Protus Timber  Doorsets.
In the wake of Grenfell, demonstrable compliance is central to Fire Doors. Doorfit's Protus Doorsets are now the simplest way to ensure fire doors are certified for all necessary building and fire regulations. Protus Doorsets are a complete assembly of door leaf, frame, seals, vision panels and hardware. PAS 24 security and dB ratings are also available. Protus is factory prepared to precise tolerances.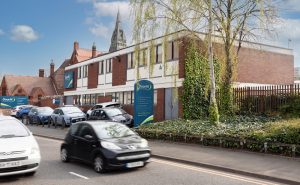 "Protus is a big step forward. Our ironmongery knowledge is second to none and applying that capability to our own line of doorsets gives customers a truly complete package – well considered architectural ironmongery for the optimum user experience and access management, combined into fully certified doorsets for effortless compliance. Protus is typical of our approach, which has seen Doorfit continually evolve and innovate over the last 70 years.
Protus is available now and already gaining traction as architects, specifiers and contractors tap into the expertise we layer onto this exciting new product. It's liked by installers too, as fitting is fast and straightforward, saving significant time over traditional joiner fabrication and the inherently challenging compliance from this approach," Robert Neil, Doorfit's joint M.D. commented.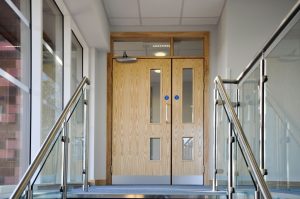 Aligned to product development, is the enablement of easier customer access to Doorfit's products online. 2023 sees Doorfit's online hardware shop receiving upgraded capabilities to allow trade customers to check stock availability, pricing and checkout using the trade account facility. The combination of a strong digital presence and our trade counter completes the service circle with the arrival of a Click and collect option for all online products.
Reflection
Commencing from modest premises in 1953, Doorfit began its life in Vyse Street near the heart of Birmingham's Jewellery Quarter in a Victorian terraced house that is now adjacent to the Jewellery Quarter railway station.
The business was started by brothers John and George Neil who, having recently been demobbed from the RAF and Navy, set their sights on supplying the post war rebuilding of Birmingham and its surrounding area.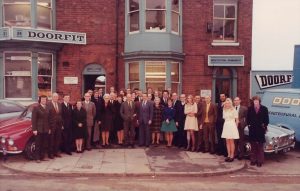 In the 1960's PC Henderson asked the brothers if they would take on their new range of Garage Doors. From that point onward the Garage Door business became an integral part of Doorfit's future, however it became apparent that they may struggle to store Garage Doors in a Victorian terraced house… Some minor adjustments had to be made!
It wasn't all plain sailing, in 1976 the company suffered a damaging fire that triggered the first thoughts of building their own premises. By 1978 a plot of land had been purchased in Heaton Street and during the August Bank Holiday weekend of 1979 they moved in.
Sadly, George died unexpectedly in 1980.  John continued on his own until the early 90's when John's sons, Philip and Robert joined the business.
John Died in 2017, aged 93 having retired just 2 years' earlier.
Today, Doorfit has a turnover of £11.5m and 50 staff, who's knowledge and expertise back its products as Doorfit continues to be the name to trust for its values and customer-led approach.
"We've come a long way and it's genuinely exciting to begin the next chapter of Doorfit's story. Sincere thanks to all our team and customers."