How to pursue Net Zero: Astutis Launch IEMA Pathways to Net Zero Online Course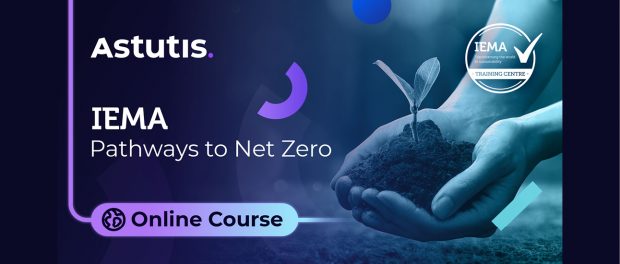 It may sound cliché, but there is truth in the following statement. There has never been a more appropriate time to think strategically about the climate crisis. The topic of the environment seems to hang over nearly every other conversation on talk shows, news bulletins, and political conferences. Events such as COP26 rally together politicians from across the globe to tell us what we already know; we are killing this planet, and soon enough, it will be too late to do anything about it.
What is often lost is that, like all examples of radical change, minor changes are as significant as the big ones. An issue such as climate change cannot be remedied simply by lowering corporate emissions, changing to sustainable suppliers, or reducing waste. Only a specific minority has the authority to make those changes. There needs to be more awareness for those not in those privileged positions.
Right-skilling the workforce
Every organisation in the construction sector faces the same dilemma: how to balance the demands of the planet and profit. But these two responsibilities are not incompatible.
Right-skilling the workforce is a small step towards the pursuit of company-wide awareness which could positively influence climate change. Through training, organisations are expanding knowledge and thought leadership on net zero carbon, biodiversity, resources, and waste reduction
Astutis have announced that they are the inaugural partner for the IEMA Pathways to Net Zero training course. In addition, they are the only provider in the UK to offer the learner the option of taking the course via a fully interactive multi-media-rich e-learning (online learning) method.
The IEMA Pathways to Net Zero course offers a great blueprint to eventually curb emissions and become Net Zero, proving to be a vital asset for organisations worldwide looking to incorporate more sustainable operations as humanity looks to combat climate change.
From 11 January 2023 until 02 February 2023, customers have the option to pre-purchase the course and lock in a £60 discount ahead of the launch.

What is in the Online course?
The Online incarnation of the IEMA Pathways to Net Zero course is a ten-hour training experience that concludes with a twenty-question multiple-choice test.
Upon successfully completing the course, learners will be able to;
Understand and convey the concept of Net Zero and how to achieve it.
Comprehend the internal risks and benefits of delivering Net Zero to an organisation.
Articulate a realistic Net Zero strategy and possess a detailed understanding of greenhouse gas accounting.
Draft a business decarbonisation plan and understand the requirements for purchasing renewable energy.
Apprehend the implications of reducing greenhouse emissions and how to effectively collaborate with supply chains on joint data collection, decarbonization and target setting.
How is eLearning different?
Multi-media rich, ten-hour online training experience that articulates Net Zero and how to achieve it.
An industry-leading digital learning platform that incorporates a wealth of additional resources engineered to maximize learning.
Astutis Learning Checks: An innovative strategy to ensure learners progress through the course when they are ready.
Unlimited access to the entire IEMA Pathways to Net Zero Learner Notes Transcript.
Why is Net Zero so important?
Day after day, hour after hour, you wouldn't be wrong to assume the news cycles and social media feeds are full of daunting realisations about the state of the environment.
Sometimes the response is to turn over the channel or to continue scrolling. After all, that would be the easy thing to do. However, that time has now passed.
The message we hear the most now, whether from a global leader or broadcasters such as David Attenborough, is that humanity has no time to waste; it is now or never.
The IEMA Pathways to Net Zero course could be a small step towards the pursuit of company-wide awareness which could positively influence climate change.

Visit https://www.astutis.com/courses/iema-pathways-to-net-zero