How can construction companies reduce waste and pollution during projects?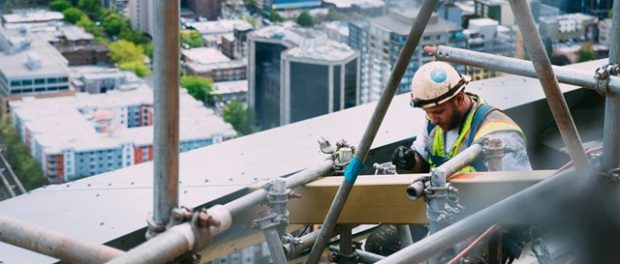 According to Parliament, "the UK's built environment is responsible for 25% of greenhouse gas emissions" and these "emissions must be reduced in the construction of buildings if the UK is to meet net zero".
In addition to this, the Chartered Institute of Environmental Health says that "the construction industry is responsible for 18% of large particle pollution in the UK… a figure which rises to 30% in London". This particulate matter has a huge impact on air quality, causing significant amounts of pollution.
So what can be done about this? Companies working in the construction industry must do their bit to reduce their impact on the environment. Here we look at several ways that waste and pollution can be minimised in construction.
Design with the full life cycle in mind
One way to help reduce the amount of pollution buildings cause is to design for their entire life cycle, from construction through to demolition. Using sustainable building methods such as modular construction is one way to do this, as they can be reused and recycled throughout their lifetime.
Many modular buildings are made from responsibly sourced materials that can be recycled once the building can no longer be used – which reduces the amount of waste in landfill.
Plus, modular building hire typically causes less pollution than traditional building methods as they are constructed in a factory-controlled setting. They also produce less waste, which can be disposed of responsibly, and they can be installed quickly and easily onsite.
Choose sustainable materials in the right quantities
One of the simplest ways to reduce waste is by ordering the correct amount of material. While ordering the right quantities might seem like a no-brainer, it's easy to over or under-order certain materials.
By under-ordering, you'll cause more pollution by getting additional materials transported and delivered, while overordering could create more waste.
It's also worth working with sustainable materials wherever possible, that can be recycled and reused if they're not needed on a particular project. This may include timber, steel, bamboo, and cork.
Dispose of waste responsibly
A thorough site waste management plan must be in place so that waste can be organised and disposed of properly. Net Regs state that "all projects in England with an estimated construction cost of over £300,000 must have a SWMP before work begins" which "sets out how resources will be managed and waste controlled at all stages during a construction project".
Companies should have a clear and consistent way for workers to manage waste materials, such as signposted skips to separate waste. For example, skips may be required for plastic, metal, wood, plaster, metal, concrete, rubble, and so on.
This will help to sort and organise waste so that it can be recycled or disposed of correctly and reduce any avoidable pollution.
By designing with the full life cycle in mind, using sustainable materials, ordering correct quantities, and disposing of waste responsibly, construction companies can do their bit to reduce waste on the job.