Henry Brothers starts work on British Army project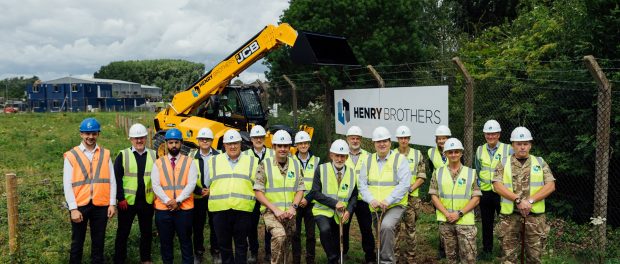 Contractor Henry Brothers Construction has broken ground on a £22.5m scheme at Beacon Barracks in Staffordshire.
The company is delivering new facilities at the Ministry of Defence site for 280 (NATO) Signal Squadron – the only British Army unit permanently assigned to NATO.
The infrastructure is being delivered to enable the squadron, which contributes to the NATO Response Force, to move from Dorset to its new home at Beacon Barracks.
As a Deployable Communication Module, its role is to install and control strategic communication and information systems supporting a deployed NATO headquarters.
Henry Brothers is building a new two-storey facility for the Squadron within a secure compound at Beacon Barracks which includes offices, conference rooms, a reception area, workshops, garaging, storage rooms, welfare facilities and M&E plant rooms. It will feature solar panels on the roof.
The company is also delivering a single-storey satellite communications building as part of the development.
Personnel at the groundbreaking event included representatives from NATO, 280 Signal Squadron, the Defence Infrastructure Organisation (DIO), and contractor Henry Brothers Construction.
Construction Director at Henry Brothers Construction Justin Hicklin said:
"We are excited to be starting work on this new facility at Beacon Barracks for 280 (NATO) Signal Squadron, who play an important role in NATO.

"Henry Brothers has worked in partnership with the Ministry of Defence and the Defence Infrastructure Organisation (DIO) on numerous projects over many years, helping to deliver a wide range of infrastructure improvements. This is our first contract at Beacon Barracks, but the latest in a long line of developments that we have successfully completed for our armed forces."
The project, which is scheduled to be DREAM Excellent, is being delivered by Henry Brothers for the Defence Infrastructure Organisation (DIO) via the Crown Commercial Service Framework. Work is due to be completed in early 2025.
Other members of the team include Pick Everard and Mott MacDonald.
Henry Brothers Construction is part of The Henry Group, which comprises a number of manufacturing and construction sector companies, ranging from external construction through to interiors fit out.
In partnership with its valued clients, it has a proven track record in education, defence, commercial, industrial, transport and healthcare sectors.
For more information, visit henrybrothers.co.uk/