Housebuilder's armed forces programme empowers veterans for a bright future in Essex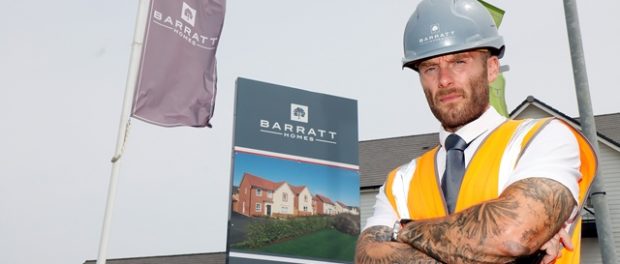 A site manager is building a path to success within the construction industry, since joining Barratt Homes through its Armed Forces Transition Programme.
The programme offers ex-servicepeople a valuable opportunity to transition into the construction industry and advance their careers.
Through the scheme, participants receive comprehensive experience, training, and unwavering support to embark on a rewarding path in site management.
Andy Williams (33), who works on Barratt Homes' High Elms Park development in Hullbridge, supports the on-site team with maintaining a five-star rated customer service by co-ordinating the trades, ordering materials, and delivering regular health and safety checks.
Since joining the developer in August 2019, Andy has been enjoying all the perks that the industry has to offer after developing valuable skills through the programme, which helps to ensure bright and promising futures for those making the transition.
For Armed Forces Day (24th June), Andy is highlighting how the scheme can facilitate a smooth transition for those seeking a fulfilling career beyond their military service.
He said: "The Armed Forces Transition Programme is a fantastic initiative that allows you to gain on-site experience and undertake all training needed to become a fully-fledged site manager.
"During my time on the programme, I received fantastic support by those running the scheme, as well as those whom I was based on site with."
Andy is a former Lance Corporal from the 2nd Battalion, Parachute Regiment based in Colchester. The Parachute Regiment is the airborne infantry regiment of the British Army.
Andy said: "Prior to joining the army, I completed a degree in building surveying and always wanted to get involved in construction after leaving the army. I looked at many trainee roles and, luckily, Barratt Homes gave me the opportunity to do so.
"It allowed me to have a smooth transition from army to civilian life. I was supported during my trainee years by Barratt Homes and have been allowed to develop with support from higher management.
"I have been enrolled on and completed an NVQ Level 4 and 6 in Construction Management and I am working towards my Level 7. These opportunities have all been provided by Barratt Homes."
When asked what advice he would give to others hoping to join the construction industry, Andy said: "I found that construction and site management provided me with goals that I could set myself which helped me refocus after leaving the army.
"I would say if you want a career with no progression ceiling and where you can push yourself every day, then it may be worth looking at a career in construction."
To learn more about the career opportunities available, visit the website at Barratt Careers.
For more information on the new homes available in the area, call the Barratt Homes sales team on 033 3355 8488 or visit the website at High Elms Park.
To view the range of properties that the housebuilder is building across the county, visit the website at Barratt Homes in Essex.