Ground Breaking Ceremony Kicks Off Ground Breaking Educational Partnership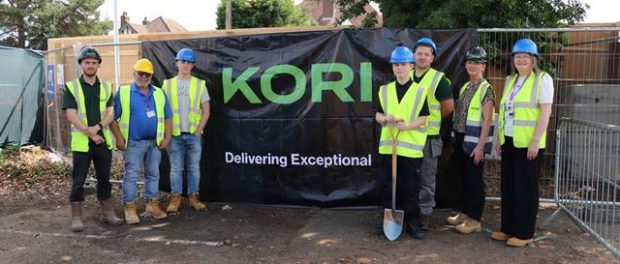 Main contractor Kori Construction has broken ground on a new care home in a move that marks the start of a partnership aimed at helping train the next generation of construction professionals.
The Northamptonshire-based business has teamed up with Kidderminster College on the development of a high quality, 60-bed care home on Norton Road in Stourbridge, being built on behalf of Barchester Healthcare.
The partnership will see Kori Construction work closely with long-term unemployed people enrolled on the college's Skills Bootcamp in Green Construction and Retrofit Technology, to equip them with vital skills they need to enter the jobs' market.
From September, the business will also work with HNC Construction Management, Electrical, Bricklaying and Carpentry students at the college, offering meaningful work placements and career talks.
Elaine Kendall, Head of Sustainability and Communications at Kori Construction, said the partnership was part of the company's social value strategy which aims to get the best outcomes for clients, the environment, and for local communities, from every development they are involved in.
As part of their work with the Skills Bootcamp, Kori will be delivering sessions on CV writing, preparation for interviews, and role playing interview situations to help attendees upskill and build their confidence.
Elaine said: "We're very excited to be teaming up with Kidderminster College. As a business, it is vital that we foster the next generation of talent coming into the industry and engaging with schools and colleges is a fantastic way to achieve this.
"But it is not just about helping the next generation to have a bright future. We want to support those individuals who are struggling to find work get into a career that is right for them. Kidderminster College's Skills Bootcamps are a great initiative for achieving this and we're delighted to be part of it."
Skills Bootcamps are free and flexible courses run by Kidderminster College giving people the opportunity to learn new skills, and fast-tracking them to interviews with local employers.
Anyone over 19 who lives in England and has the right to work in the UK can apply to join.
Danny Pardoe, Business Engagement Lead at Kidderminster College, said: "With the current industry growth in construction, we know that it's vital that skills gaps are bridged and that students are prepared for a future in the industry.
"The partnership with Kori Construction will aid us immensely at Kidderminster College in preparing the next generation of construction workers through work experience, hands-on projects, guest speakers, interview preparation and more. We are truly grateful to Elaine and the team at Kori Construction for the opportunity to collaborate for the good of our students and our local community."
The ground breaking ceremony, which was attended by students from Kidderminster College, kicks off the start of construction, beginning with the demolition of the former Greyhound pub to make way for the new £9m care home.
The design of the facility will be light, bright, and spacious, providing easy access for residents to a range of high quality amenities including lounges, a bistro, cinema, a hairdresser, and attractive, landscaped outdoor areas.
The development will also be in walking distance of further amenities including a dentist practice, local food shops, a post office and a pharmacist, and will help meet demand for much-needed care facilities in the town.
Property Development Manager at Barchester, Mike Coggin, added: "We are really excited to get this project under way. Our Stourbridge home will be a fantastic addition to the local community."