Female ex-forces site worker in Dorset shortlisted for two prestigious awards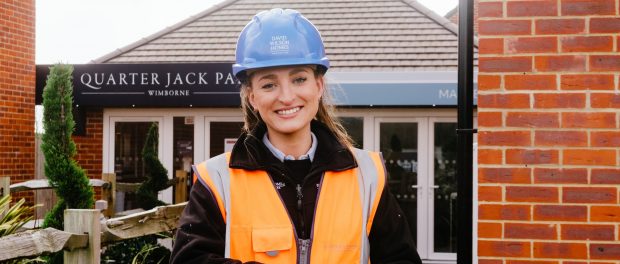 A female assistant site manager in Dorset has been 'building' such a strong career in construction, that she's been shortlisted for not just one, but two specialist awards.
Victoria Grinnall, 27, works at Barratt Homes' Quarter Jack Park development in Wimborne, and has been named as finalist in both the Ex-Forces in Business Awards and Women in Housing Awards for her drive and dedication towards equality and diversity in the construction sector.
After serving in the military for six years, and becoming the very first female to drive Titan and Trojan armoured vehicles, Victoria left the forces in 2021. She joined Barratt Homes' via its Armed Forces Transition Programme – a scheme which gives ex-forces personnel the opportunity to become an Assistant Site Manager.
Now fully qualified, Victoria is making strides within her career in construction and is an advocate for breaking down barriers, encouraging more young women into a career in construction and challenging stigmas that she says are slowly starting to change.
She has now been recognised as a 'Champion of Women' in the world's largest celebration of ex-military personnel in their second careers – the Ex-forces in Business Awards. She has also made the shortlist for this year's Women in Housing Awards, selected as one of the top entries in the 'Woman of the Year' category, which celebrates the leaders, innovators and changemakers across the sector.
Speaking of her double award nomination, Victoria said:
"Although there's still a stigma surrounding women working in construction, it certainly isn't as big as it used to be, and I rarely come across it. I also think women can bring a more nurturing and supportive aspect to the team, something that's very important for the mental health of the workforce.

"To even be nominated for these awards, is such a high accolade for me. I love what I do, and I hope to inspire other women and ex-service personnel to join the sector."
Barratt Homes is an equal opportunities' employer and works hard to ensure there are roles for everyone regardless of gender, race, or background. With the housebuilder's support, Victoria regularly champions the housebuilder's Diversity and Inclusion Forum, which offers a safe space for people to approach the organisation and speak about any issues they are facing.
Anthony Dimmick, Barratt Homes' Community Liaison Manager, said:
"Our Diversity and Inclusion programme is an important step in addressing the needs of our workforces and helps us assess the way we work as a company.

"Victoria is a great advocate for women working in construction, along with those transferring from the Armed Forces, and is a real asset to the team. I'm delighted to hear that she has been shortlisted in both these prestigious awards – it is well-deserved."
Winners of the Ex-Forces in Business Awards 2023 will be announced at a ceremony on June 26th, and Women in Housing award winners will be revealed on 29th June.