Beard returns for second phase at Marlborough College science building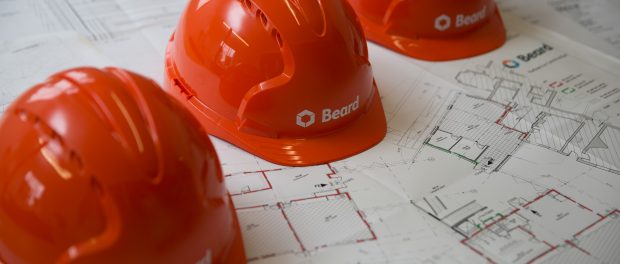 The science building at Marlborough College, one of the UK's most prestigious co-educational independent full boarding schools, is set for the next phase of its transformation by award-winning contractor Beard Construction.
The £2.3 million second phase will see the construction of five new teaching laboratories, a physics preparation room and the widening of the main corridor to enhance circulation space.
Work has already started to strip back to the existing concrete frame structure, remove windows and roof coverings and remove all furnishings back to brick. Structural demolition of the brickwork and a section of concrete frame has also begun to allow for the widening of the corridor with the installation of a new structural steel frame added to the side of the existing building.
This will be supported with upgraded M&E systems controlled via BMS to enhance safety and security, lighting, heating and ventilation throughout, a new curtain walling to enhance natural light and a complete re-roof of the area.
In addition to the roof, the building will also benefit from an upgraded façade to cover the outdated render and blockwork. The overclad will increase the thickness of the walls and improve the thermal properties of the building, all while helping to meet the college's objective of delivering a modern teaching space.
While the most disruptive work has been scheduled within the Easter break and other school holiday periods, much of the project will take place while pupils use the remainder of the science building. Beard is working closely with the college to ensure minimal disturbance for both staff and pupils, facilitating separate access, managing boundaries, and erecting temporary partition walls to separate live environments.
This latest project is the continuation of the first phase which saw Beard successfully deliver seven teaching laboratories, a biology preparation room and toilet facilities, along with enhanced circulation spaces. The Swindon-based firm came to the rescue at short notice when the original contractor entered administration halfway through the first phase.
Within two weeks of the college making contact, Beard assembled a team for the project and sent a project manager, site manager and surveyors to site to re-establish work. Beard then began the process of working with the college and its consultants to bring back the previous supply chain, all in the middle of the summer holidays, to finish the project. It took just seven weeks from the original contractor closing the site to Beard reopening the site and restarting works for the college.
Jamie Harwood, director at Beard said:
"While Beard may have a storied history in the education sector, it's certainly not lost on us to be working with one of the country's leading independent schools on such a prestigious project. Through our role in the first phase, we've developed a strong relationship with the team at Marlborough College and we look to nurture this into the next phase and beyond.

"We will continue to utilise our expertise in the sector to ensure the spaces we create offer a dynamic learning environment for students and a fantastic workspace for teachers and staff. These buildings have an important role in the rich history of Marlborough College and we are thrilled to be playing our part."
Andrew Hart, bursar at Marlborough College added:
"Our key objective is to provide our pupils with the teaching, infrastructure and environment necessary to make their mark on Science and Technology, all while staying true to the distinguished educational heritage Marlborough College has to offer. We are delighted to see work has begun on the next phase of this comprehensive project and to be once again working alongside Beard who understand and share our ethos."