Fairgrove supports National Apprenticeship Week 2023 by celebrating its thriving apprentices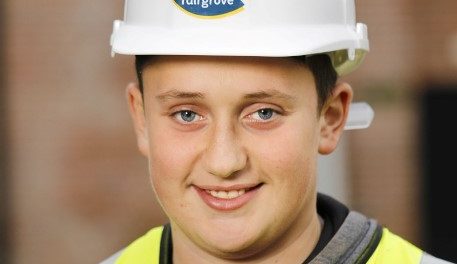 East Midlands-based, family-run home builder, Fairgrove, is celebrating National Apprenticeship Week, which takes place from the 6th – 12th of February with this year's national theme focusing on Skills for Life which aims to bring together businesses and apprentices across the country.
With a long history of developing apprentices, several senior Fairgrove team members joined the business on initial apprenticeships. This highlights the importance of young talent that Fairgrove is looking to add to its existing workforce in order to help to ease the current skill shortage gap in the construction sector.
Fairgrove highlighted their commitment to their future workforce as a business when hiring their latest and biggest group of apprentices to date in 2022.
Fairgrove's developments include The Brewery Yard and Nine Corners in Kimberley, as well as Swanwick Fields, near Alfreton. The family-run firm are keen to support new apprentices entering the industry to feel a part of the family business.
Steve Midgley, Fairgrove's Managing Director, who co-founded the company in 1995 alongside his wife Christine Midgley, said:
"Over the years, we have recruited many apprentices and trainees who have worked with us, developed, and become outstanding assets to our family-run business. We think an apprenticeship is a fantastic way for young people to invest in themselves.

"Supporting National Apprenticeship Week is really important to us at Fairgrove. We're incredibly proud of how far our most recent cohort of apprentices have come already, and we're looking forward to seeing how they progress and develop. We hope they will stay with us for years to come, once they're qualified, and work their ways up the ranks, eventually becoming leaders for our future groups of apprentices."
Apprentice Bricklayer, Jack Deaton said:
"I'm really enjoying my apprenticeship. I train at the NHBC Training Hub at Nottingham College, it's a mix of 70% building and 30% learning at the moment, which is a good balance for me."
Fellow Apprentice Bricklayer, Sam Cooke, explained:
"The team look out for you and encourage you to develop as an individual. No day is the same, and I've learnt so much already."
Another recent Apprentice at Fairgrove, Sam Oakland, said:
"I've had a good time since I joined Fairgrove last year. I've learnt so much from my colleagues on the building site, as well as in the classroom at college. The support from the company has been second to none, too.

"I've even been on local TV and had the chance to share how much Fairgrove have helped my education and passion for the industry – it's been great!"
Fellow Bricklaying apprentice, Kian Statham, has recently obtained his Level 2 Bricklaying Diploma. Steve Midgley presented Kian's award to him, and added:
"We're incredibly proud of Kian, and the work he has carried out since being at Fairgrove. His efforts don't go unnoticed, and we're pleased to see that we've been able to support him whilst gaining his qualification at College, and moving to the next level in the industry."
Fairgrove Accounts Manager, Carly Trueman, joined the company over 20 years ago as a trainee and many of the companies' bricklayers came through on an apprenticeship and stayed with them, something that the family-run business is keen to encourage, and continue.
Fairgrove has a well-established relationship with Nottingham College at Basford Hall, which has supported the home building industry for several years, while the National House-Building Council (NHBC) Training Hub has also been used to develop young talent.
For more information about the ongoing developments of Fairgrove, please visit: https://www.fairgrove.co.uk