Arco invests in Stuff4Life to further explore innovative circular polyester supply chain approach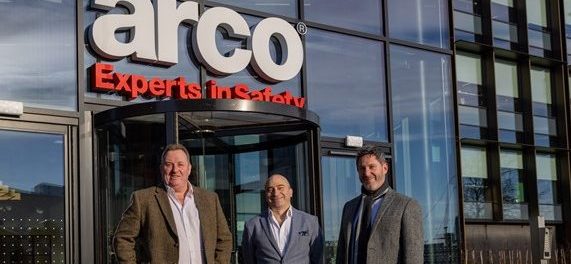 The UK's leading safety company commits commercialisation funding to Teesside-based recycling start-up Stuff4Life.
Arco, the UK's leading safety company, has further invested in polyester recycling start-up Stuff4Life to create a new joint venture company, which aims to create a circular supply chain for polyester, reducing the amount of used workwear which is sent to landfill as well as carbon emissions related to the raw materials used in their production.
Based on Teesside, Stuff4Life Workwear is intended to support both Arco and the UK's net-zero targets and enable Stuff4Life to develop its patent-pending chemical recycling process towards full-scale commercialisation.
The joint venture will continue to build on the relationship with Teesside University and its Net Zero Industry Innovation Centre, as well as the Centre for Process Innovation at Wilton, part of the UK Government's High Value Manufacturing Catapult.
As a key supplier of workwear, Arco is committed to addressing the problem of products that have reached the end of their useful life, particularly garments made with polyester. Nearly 90 per cent of the 33 million workwear items supplied annually currently end up in landfill or are incinerated.
As part of the partnership, Arco will continue to re-design its product range for longevity and circularity, taking responsibility for its 'own-label' garments – before, during and after their useful life – and introducing end-of-life schemes for workwear, hazard wear and personal protective equipment (PPE).
Stuff4Life Workwear's solution works by recovering the base polyester components from recycled polyester-based garments, including complex workwear and PPE.
The recovered components can be used in place of virgin raw materials in the manufacture of new polyester which reduces the impact of manufacture, a key element in the transition to a circular economy.
Successfully recycling polyester and establishing an onshore UK supply chain will reduce the industry's dependency on fossil fuels. It will also reduce pollution from the manufacturing process, as recycled polyester uses significantly less energy and resources compared to virgin polyester manufacture.
Thomas Martin, Chairman of Arco, said:
"Our sustainability strategy has a key focus on reducing our environmental impact and in helping our customers achieve their sustainability goals.

"After previously supporting Stuff4Life with seed funding, we are delighted to announce this investment to enable the commercialisation of a workwear-focused polyester circularity business.

"Sustainability is important in all aspects of our lives, including our jobs and we will only help the UK reach its net-zero goals by addressing every area.

"By enabling recycled polyester to be produced on a larger scale, more companies can kit their employees out in more environmentally friendly clothing, reducing our reliance on fossil fuels and decreasing our impact on the environment, whilst keeping people safe.

"As a fifth-generation family business, we have always put corporate and social responsibility at the heart of our organisation, so were excited to work with such a forward-thinking company and improve the sustainability of the industry.

"We know that this solution works and now is the time to scale the operation up and support the building of a circular workwear economy in the UK, ensuring we protect more people as well as the planet." 
John Twitchen, Director of Stuff4Life, comments:
"We are really excited about the next stage of our Stuff4Life journey, continuing our work in partnership with Arco.

"Our ultimate goal remains the same – to make new polyester products from old polyester products – but also making the next generation of workwear last even longer, perform even better and be more recyclable when its job is done.

"This is the true value of our partnership, making a real difference throughout the design cycle and the lifecycle of products and delivering not just a circular economy for critical materials, but decarbonising industrial processes and delivering even better outcomes along the way."
Jim Harbidge, Head of Sustainability at Arco, added:
"The majority of Arco's carbon emissions take place in the factories that make our products and are related to the refining and manufacturing processes of products, such as polyester.

"This project is a game-changer for Arco and its customers and gives us the chance to reduce these 'difficult to reach' carbon emissions and recover the resources and carbon needed to re-manufacture new items.

"This innovative project is part of Arco's carbon reduction strategy and has potential way beyond our business. Ultimately, it will help towards achieving not only our science-based carbon target but that of the UK."