Enhancing safety and well-being in the construction industry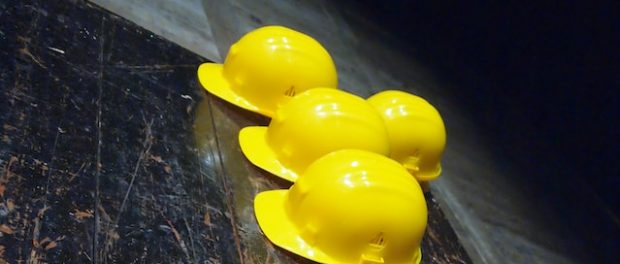 Construction is a vital industry across the globe. We rely on it for many reasons, as it provides us with residential and commercial buildings, as well as important infrastructure that's key in our daily lives. In the words of the Government, as explained in the Construction Sector Deal policy paper, construction underpins our economy and society and has a huge impact on communities. And to maintain the nation's construction industry, a sizeable workforce with a broad skill set is required, from bricklayers to carpenters, electricians to general construction workers.
Having said this, construction is a notoriously dangerous industry to work in. This sector has some of the highest percentages of fatal and major injuries, according to the HSE. This is, in part, down to the profession involving manual labour and working in often hazardous workplaces.
As a result, workers need to follow safety guidance and best-practice while onsite. Below, we'll explore the current landscape around safety concerns and how we can minimise these risks going forward.
The current state of worker safety in construction
According to data from HSE, this is the breakdown of non-fatal injuries in the construction industry based on recent data:
Slips, trips and falls: 26%
Lifting and holding: 18%
Falls from height: 19%
Struck by object: 12%
A number of physical hazards can arise onsite. Falling objects such as bricks can have life-changing consequences while moving vehicles and even loud noises without correct PPE can be dangerous. Between 2021 and 2022 alone, there were 30 fatal injuries, with 51% of these stemming from falls from a height.
Statistics also show that in 2022, 78,000 workers suffered from work-related ill health, a figure that was averaged over a three-year period between 2019 and 2022. Plus, 27% of all ill health within this sector was related to stress, depression and anxiety, showcasing an additional area that needs attention.
Unsurprisingly, injuries, such as these, caused in the workplace can be very stressful for workers' families to deal with. And in some situations, personal injury claims are an option that many turn to so that individuals and families can receive any necessary compensation.
Best practices for ensuring construction worker safety
So, how can these risks be reduced? Clear safety protocols and guidelines are a must, with thorough training being provided not only when someone starts at the workplace, but as an ongoing project. For example, workers might begin working with a new piece of equipment a few years into the role, in which case, they should be trained on how to use it safely, regardless of their experience in other areas of the construction sector. Personal Protective Equipment (PPE) should also be worn where necessary and without exception, from helmets to goggles.
It goes beyond training and PPE, however. Encouraging a safety-oriented culture is key to ensuring that people are observant in the workplace. That includes looking out for others and not being afraid to correct someone if they are approaching something unsafely. Workers should also raise and report hazards so that they can be dealt with imminently.
Promoting safer working environments
By definition, 'ergonomic' design involves designing a piece of equipment so that it is both efficient and comfortable in a working environment. Even seemingly minor actions of heavy lifting, such as a toolbox, can lead to pain and strain on the body. Over time, this could lead to more severe health problems. Reimagining how a toolbox can be transported, could help reduce risks in the industry. From wheels to rucksacks, there's plenty to be explored to help make this example more ergonomic. Under the same concept, benches should be adapted to suit different bodies to help to ensure workers feel comfortable.
Ensuring PPE is adaptable and tailored to the individual will make a big difference too. There are even reports of more inclusive forms of PPE becoming more commonplace, so employers should facilitate any cultural requirements where possible.
Revisiting and redesigning construction processes can also help. This might also involve using machinery to replace manual efforts to help reduce risks. You could also add additional steps into processes to improve quality and safety simultaneously.
When focusing on mental well-being, a large part of this will come down to fostering a safe culture in the workplace. Any instances that could help build relationships across teams could be more valuable than you might expect. Make sure that workers have access to external help. This could be as simple as providing details of mental health charities such as Mind and others.
To conclude
In light of statistics showcasing how dangerous the construction industry can be, those in this sector need to remain diligent. It also means that employers should take extra care of staff by making sure that they are working in the safest conditions possible, given the circumstances. On top of this, ongoing attention and improvement from official bodies to keep worker welfare intact is essential.