Streamlight Tower: Merging form with function, innovative façades from Dekton®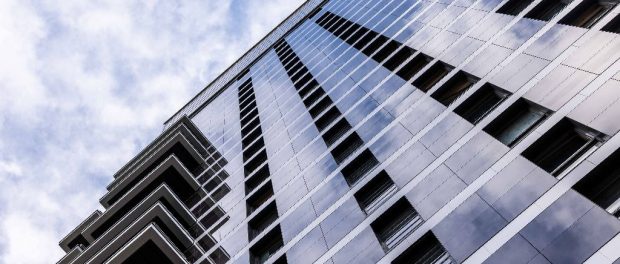 Set in the heart of London's iconic Docklands, Streamlight Tower is the impressive new residential development from the Swan Housing Group and PRP Architects. The development features over 4,600 panels of ventilated façades on Streamlight Tower itself and an additional 5,100 panels on its two adjoining sister towers nestled next to it from Cosentino's ultracompact surface, Dekton®. 
Undergoing large scale transformation in the 1980s and 90s, the Docklands were famously regenerated by the UK Government, converting derelict industrial space into a mixture of residential and commercial properties. The area today boasts a premium mix of thriving enterprise, luxury living quarters and vibrant community spirit. With exquisite views across the river and a stone's throw from the iconic 02 Arena and Canary Wharf and the Olympic Village, Streamlight Tower is one of East London's most substantial and sought after residential developments of the last few years.
Bespoke cladding excellence 
Spanning over 9,000 sqm, standing over 269 ft high and with 24 floors of luxury apartments, it cuts a striking silhouette against the London skyline. Streamlight Tower's skin is made up entirely by Dekton Eter Alberta and Dekton Sasea Alberta, bespoke cut-to-size ID XGloss panels in 12mm thickness. Utilising Cosentino's bespoke ID service to create an exclusive façade colour, Dekton ID XGloss helps the building to blend in seamlessly with its surroundings. Sleek, minimalistic and urban-industrial in style, XGloss's beautifully dark hues and modern mirror finish elevate the tower's aesthetic.
These large format tiles are beautifully complemented by the smaller format Dekton XGloss Sasea tiles adorning the outside of its adjoining sister towers. With innovative manufacturing processes that ensure tonal uniformity, visual continuity and a guarantee against colour deterioration, all three blocks in the Streamlight Tower development are as visually impressive as they are functionally superior.
An undercut anchor system was used to fix the panels on the secondary support structure. The panels were pre-assembled with the anchors and hangers in a designated site area and then taken to the allocated area for installation. Feature projected frames were installed using mitred and chamfered corners on the front and rear elevations of the building providing an appealing visual appearance.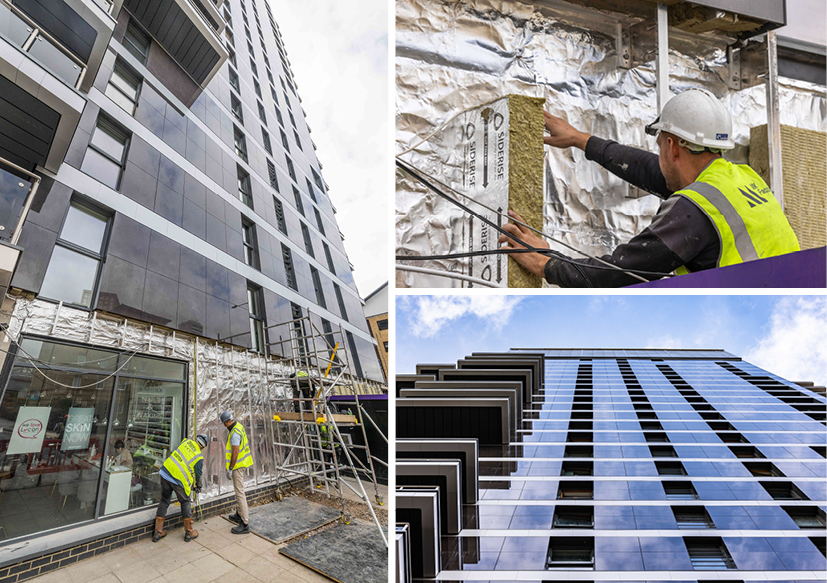 Technical specifications – ultracompact façades built to endure the elements
The paradigm shift led by contemporary architecture has placed greater emphasis on the importance of the façade. Recognition of structural stability, energy efficiencies and safety properties that facades bring, especially ventilated façades, it is unsurprising they were the chosen material for Streamlight's entire exterior.
A2 Fire Rated*, Dekton façades provide maximum resistance to high temperatures. Dekton is non-combustible and features Protek, a fire-resistant reinforcing mesh, which means its surfaces have thermal conductivity properties that are three times lower than ceramic, natural stone or other cladding alternatives; thereby making them one of the safest choices for high-rise developments.
Unlike anything on the market, Dekton is an ultracompact surface created through a cutting-edge proprietary sinterisation, compaction, and drying process. This means it offers superior mechanical resistance, dimensional stability (even in thin thicknesses) and importantly, resistance to extreme conditions. Panels are heat, UV, freeze and thaw resistant, with low water absorption to give unmatched durability.
In keeping with Cosentino's wider commitment to sustainability, Dekton is a cradle to grave carbon neutral product, giving the whole Streamlight Tower development notably greener credentials.
Our Streamlight Partners 
Commenting on the project and the reason behind specifying Dekton, Colin Black from MK Facades comments, "Every project we take on at MK Facades is engineered without compromise. As such, we only use the highest quality materials that have proven high-performance and technical capabilities. Dekton facades offer superior design, function and value, hence we knew it was the best fit for Streamlight Tower given the project's structural and aesthetic demands. We will continue to specify Dekton for our projects because it continues to be best in class."
Paul Gately from Higgins Partnerships also comments. "We have been delivering residential solutions in partnership for over 60 years. With all the complexities that come with a project of this magnitude, we knew we needed to work with a company who could handle every challenge we threw at them. The Dekton team delivered exemplary service, meeting all our technical and product demands with solutions, making the whole process smoother and more streamlined. Dekton's sustainability credentials also continue to stand out to us – it is rare to find materials that are designed and manufactured to such a high standard, that are also cradle-to-grave carbon neutral."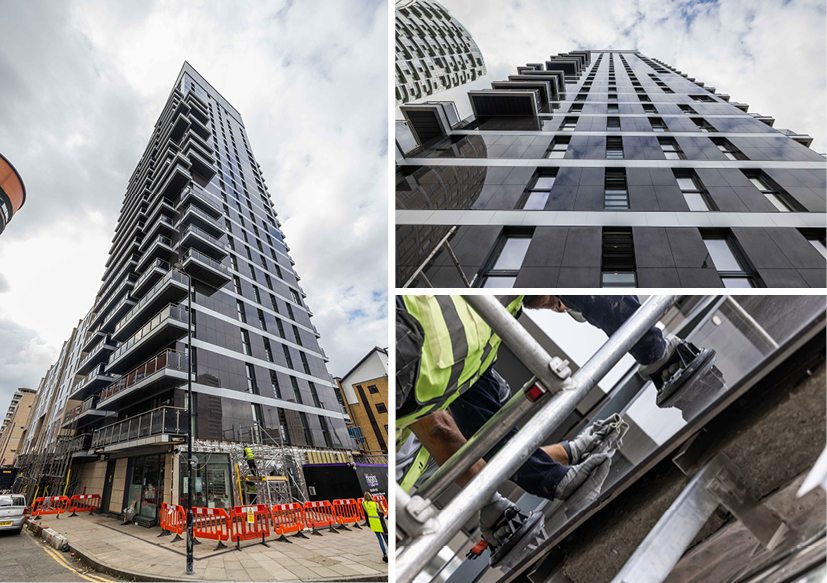 Dekton by Cosentino Certifications
Dekton has obtained the European Technical Assessment (ETA) 14/0413 document and CE marking as an external wall cladding for ventilated façades. Thanks to its properties, Dekton surface can be perfectly incorporated onto façades by means of different types of concealed stainless steel or aluminium fixings.
The ETA issued for Cosentino includes the characterisation and experimental evaluation of the Dekton surface for use as external wall cladding for façades: wind load resistance, impact resistance and reaction to fire, durability, and the characterization of the fixing components necessary for the surface to be conveniently incorporated onto façades. External cladding for ventilated façades with the CE marking offer performance that has been assessed by a third party and performance characteristics that have been confirmed and contrasted according to European methodologies.
For imagery, product information or expert commentary, please contact the Cosentino team at cosentino@houston.co.uk