CT1 is the Award-Winning Choice! Travis Perkins Commercial Supplier of the Year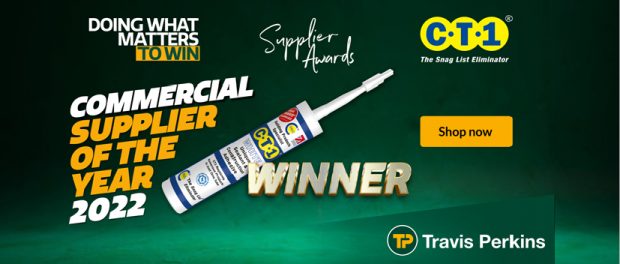 C-TEC is proud to announce it has been awarded the prestigious 'Commercial Supplier of the Year' by Travis Perkins, the UK's largest supplier of building materials to the building and construction industry. C-TEC is the manufacturer and distributor of CT1, officially the No.1 Sealant and Adhesive in Britain, as voted by professional trades in a national independent survey by Expert Trades.
The award was presented at a ceremony held on Wednesday 8th February 2023 and attended by hundreds of industry peers from across the country.
CT1 Creates Successful Commercial Partnerships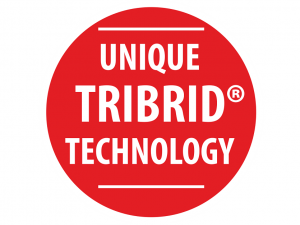 Working in collaboration with our commercial partners CT1 creates strong bonds and seal long term strategic alliances. Together we bring Britain's trades the very best sealant and adhesive solutions in the construction industry.
In partnership CT1 and Travis Perkins supports trades people nationwide in every sector of the industry including roofing contractors, joiners, window suppliers, kitchen fitters, bathroom installers, as well as specialist fit out and building companies. The construction industry is the driving force of our country and both companies recognise good trades people are the central to that.
CT1 is Proudly Made in Britain
Proudly Made in Britain with British technology and British design CT1's 'Tribrid®' technology provides unique adhesion and long-term sealant solutions on virtually any material in most applications without the need for additional fixings.
Travis Perkins Award Recognises CT1's Innovative Products and Service
In an extremely competitive category, this award recognises the work and dedication of CT1's entire team in not only supplying the best products but standing out the field of customer service to support Travis Perkin's branch managers and staff in over 500 outlets nationwide.
Received by C-TEC CEO Jimmy Walsh he commented: "We are honoured to receive Travis Perkins' 'Commercial Supplier of the Year'. It proves that only do we have innovative, unequalled products we also provide an unparalleled package of sales and marketing support to our partners that helps ensure they're at the forefront of new product innovations in Britain's construction industry."
"We are proud to work with fellow industry leaders like Travis Perkins and look forward to building on our joint successes and developing future opportunities as our partnership strengthens."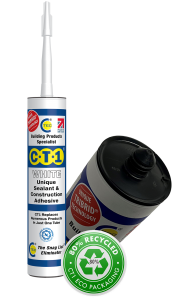 CT1 Leads the Drive for Long Terms Sustainable Solutions
CT1's Award-Winning success is built on innovation and continuous improvement. Leaders in research and development, the company was the first to bring a Hybrid Polymer to market 20 years ago and has proudly introduced the revolutionary and environmentally complaint Tribrid® sealant and adhesive technology with explosive results.
CT1 is leading the market once more with the introduction of its new Eco-Compliant Cartridges. This game changing packaging technology is manufactured from 80% recycled content and is totally 100% recyclable.
Creating long term sustainable solutions is at the very core of CT1's products, service and relationships. They don't simply have customers or suppliers; they build sustainable partnerships for long term mutual benefits. There is no greater benefit than a better environment for everyone.
Not only does CT1 replace several different products into just one cartridge, saving time and money, it now reduces the impact on the environment by cutting the amount of non-recycled waste being sent to landfill.
'Hang in There' Stronger Together
As Travis Perkins is such a strong commercial partner there was no better place than Travis Perkins Supplier Conference to launch our innovate new challenge of strength and endurance.
Following the success of CT1's hugely popular 'Saw in the Stone' Challenge it is launching the all-new 'Hang in There' Challenge for 2023. To take part watch out for it arriving at Travis Perkin's Suppler Demonstration days nationwide. To win an amazing set of Milwaukee Tools and CT1 Products all you have to do is 'Hang in There' longer than your workmates and industry peers. All leading times will be recorded, and demo day winners will be invited to a Grand Final at The Installer Show in the NEC Birmingham on 27-29th June 2023.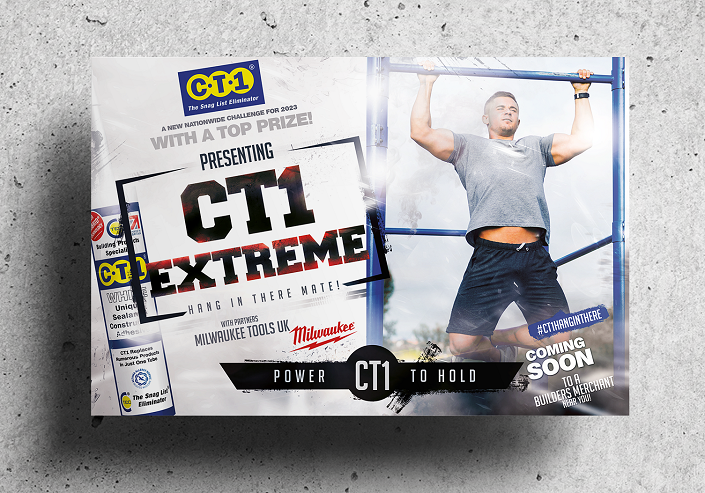 Supplying Britain's Trades
CT1's Unique Sealant and Construction Adhesive, in its new Eco-Complaint cartridges, is available now in all Travis Perkins branches nationwide and online from www.travisperkins.co.uk.
CT1 – Often Copied but Never Equalled!
We Innovate – Not Imitate!