Contractor announced for £48m Gateshead quayside hotel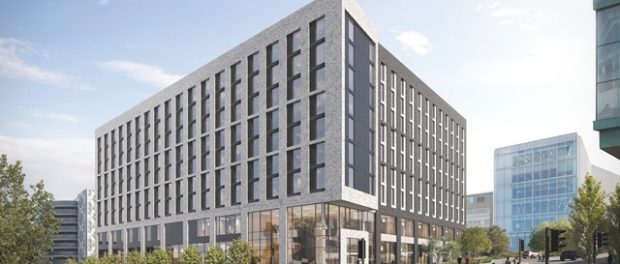 Russell WBHO has been appointed by Ask:PATRIZIA to construct a £48m 344 bedroom, dual branded hotel at Baltic Quarter on Gateshead Quayside. It will be operated by Accor under its Novotel and ibis brands.
The planning application for the 180,898  sq ft, nine storey hotel was approved by Gateshead Council in March and Russell WBHO is planning to commence work on the two year build programme before the end of the year. Designed by AHR Architects the hotel will feature restaurants, bars and business meeting rooms as well as a resident's gym and will be managed by Vine Hotels.
The hotel will be located on a 0.5-acre site at the corner of Quarryfield Road and Hawks Road and
will support the wider city region as well as accommodating future visitors to The Sage International Conference Centre and Arena which is being developed adjacent to the site.  A network of pedestrian footpaths and crossings will link the hotel to the wider Quayside development areas and to Gateshead town centre to the west.
It will accommodate 210,000 visitor nights per year, driving tourism to the region and contributing an estimated £13m to the local economy. The delivery of the hotel will create upwards of 75 full time hospitality jobs with an additional 40 new roles across the regional supply chain.
Russell WBHO is known for its expertise in hotel construction, with more than 2,500 bedrooms delivered across a dozen hotels for eight different brands in recent years. Managing director Gareth Russell said:
"As a recognised specialist in hotel construction, we are extremely pleased to confirm our appointment to this new project in Gateshead.

"We take a collaborative partnership approach to delivery and our team is working closely with the client and the local authority in readiness for a project start later this year.

"As part of our commitment to responsible sourcing and social value, we will look to secure labour and materials from local suppliers wherever possible and ensure the project provides training and apprenticeship opportunities for local young people."
The Russell WBHO team will also be working with local schools and colleges to provide careers advice sessions as part of the company's ESG agenda to help encourage more young people into construction.
The hotel is being partly enabled by the Government's £20m Levelling Up funding which was secured by Gateshead Council earlier this year.
John Hughes, managing director of Ask Real Estate on behalf of the Ask:PATRIZIA partnership said: 
"Russell WBHO has a proven track record in the leisure sector and we are delighted to be partnering with them to deliver this superb new hotel for Gateshead. We're looking forward to making a swift start on site and seeing the creating of another valuable asset for the Quayside area."