Construction charity braced for Christmas surge in use of its new mental health text service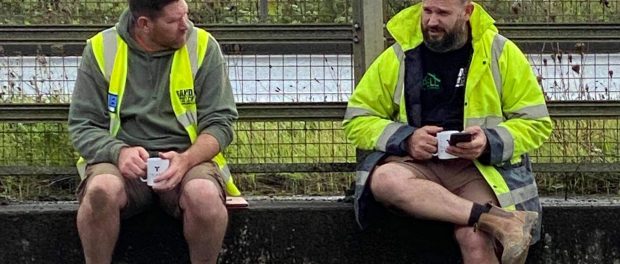 National construction charity Band of Builders (BoB) is gearing up for an increase in use of its new mental health text service during the festive period – following new figures that indicate that 5,583 people died by suicide in Britain during the last year.
The charity launched the service in October as part of its annual Big Brew campaign so that tradespeople, contractors and their families can text BOB to 85258 at any time to get much-needed help. BoB is expecting to see a spike in usage over Christmas and into the new year – and it wants to encourage people from across the construction community not to suffer in silence.
Peter Cape, the Big Brew lead at Band of Builders, says that Christmas is always a stressful period at the best of times – but this year it is compounded by additional pressures such as the cost-of-living crisis and sky-high energy bills.
"Band of Builders is making a simple appeal this Christmas to everyone involved in the construction industry to ask for help if they are suffering with mental health issues," he said. "We're asking scaffolders, roofers, electricians, builders and everyone else in construction, or their families, who are concerned about their mental health to take that all-important first step and text BOB to 85258.

"Our text service team are trained to respond to the full spectrum of mental health issues, including abuse, addiction, anger issues, anxiety, bereavement, bullying, depression, loneliness, personality disorders, relationship issues, self-harm, trauma, work-related stress and even suicidal thoughts.

"ONS figures used as part of the Big Brew campaign – which is sponsored by Big Red Construction – suggest that UK construction sector workers are nearly three times as likely to die by suicide than their counterparts in other industries, and the suicide rate of UK construction workers is estimated to be as high as two people every day."
The appeal is especially important, as figures being reported in The Times newspaper suggest that last year, 5,583 people died by suicide in Britain.
Peter added that the sole aim of the Big Brew has been to make it as easy as possible for tradespeople and contractors to take the first step and reach out. Last year's campaign raised enough money to fund a counselling service specifically for the construction industry for two years.
"The new text service has been a welcome addition to the counselling service – which means we can offer different routes by which tradespeople can get much-needed help and support."