Milestone Infrastructure cutting carbon with Devon County Council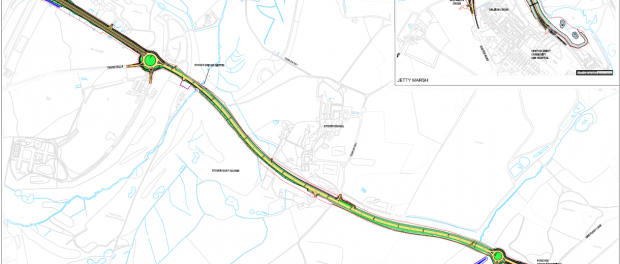 Milestone Infrastructure, a part of M Group Services' Transport Division, has been awarded the first part of the third and final phase of the A382 corridor improvements project in Devon providing early contractor involvement (ECI) to support the final design stages.
The final stage of the A382 and Jetty Marsh project involves constructing 3km of new carriageway as well as aligning and improving the existing road.
In addition, the project will enhance cycling and pedestrian facilities around the town of Newton Abbot including building a new footbridge at Forches Cross.
ECI allows the project team to collaborate with the client, Devon County Council, over a period of nine months to design and develop the project ahead of its delivery.
As a result of this partnership, the project team recently attended the Association of Directors of Environment, Economy, Planning & Transport's (ADEPT) Dragons' Den presentations for the Live Labs programme. The A382 project is one of 10, narrowed down from 30, invited to attend the Dragons' Den stage. The project team is waiting to hear the outcome.
Live Labs 2: Decarbonising Local Roads in the UK is a three year, UK-wide, £30 million programme funded by the Department for Transport (DfT). Focused on innovative decarbonisation proposals from local highways authority led ventures, the panel is looking to offer funding to forward thinking projects.
Milestone Infrastructure is drawing on its extensive experience in identifying carbon reduction initiatives to enable the project to be as sustainable as possible. With the additional funding, the team intends to use innovation to make the project carbon negative.
Throughout the project, Milestone Infrastructure will be working with local suppliers.
The project is adjacent to sites of special scientific interest (SSSI) and the team will be avoiding disruption to these areas and working with stakeholders to make sure the correct procedures are in place to protect these areas of conservation.
Upgrades to the A382 are due to commence in spring 2024.
Lewis Cowley, Regional Director at Milestone Infrastructure, said: "We are proud to be bringing Milestone Infrastructure's local and national experience to the A382 and Jetty Marsh link project.
"Working closely with Devon County Council and their internal design team, along with other project partners provides the exciting opportunity to work together collaboratively and deliver a successful project."
The A382 corridor improvements project is upgrading local highways to cope with the increased traffic that is anticipated as a result of developments planned in the area.