Compact Loaders UK: A range of Labour Saving Mini Loaders and Dumpers to enhance Productivity and Safety on any job site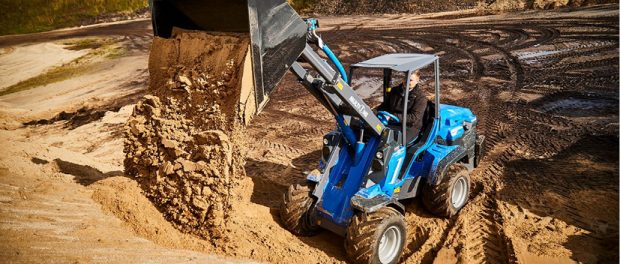 Compact Loaders UK is the trading name of Ranger Equipment Ltd, with a history in the supply of niche Compact Machinery that create solutions to mechanise where larger machinery just can't work. The aim is to enable safe working, with enhanced productivity and increased profitability to those who previously had to make do with old methods and sheer hard work.
The company's mission is a simple but effective one, and it's products, supply and support ethos certainly mirror it:
'It is our mission to help you transform your work by adding Productivity and reducing Labour & Costs, whilst enhancing Safety and adding genuine value to your Profit Margins.'

MultiOne
Celebrating their 25th anniversary this year, MultiOne Srl are dedicated to the design and manufacture of MultiFunction Mini Loaders.
With a range of features reflected in very few other brands, MultiOne offer the broadest range of Loaders, from the diminutive 1 Series, to the Class Leading 11.9K. A total of 19 models are available, including the EZ range with Zero Emissions 100% Electric drivetrain.
With 'cab forward' design to place the operator in a commanding position, looking directly down the boom and onto any attachment that may be fitted. This direct line of site is uninterrupted during steering, as the cab and seating position is mounted to the front chassis of the articulated steering design.
High flow auxiliary hydraulics (up-to 95 l/min), with quick connect attachments interface make the MultiOne amongst the most powerful attachments 'tool carriers' of their size.
The Telescopic Boom helps keep everything compact, with class leading closed dimensions. Great reach is also achieved with maximum boom heights upto 3.6m, another class leading statistic.
The Articulated steering, coupled with 4WD Hydrostatic Transmission make the MultiOne a go anywhere machine. DBS (Dynamic Block System) and Torque Divider are switchable, allowing for high traction when needed, but also can be set for minimal to no ground damage for delicate ground. With this a MultiOne can be engaged with challenging Forestry or Agricultural Terrain in the morning, and switch to Lawn Mowing in the afternoon.
Low gross weight is another key feature, with many MultiOne owners choosing to transport their Loader by 3.5T plant trailer. This is even achievable with the flagship 11 Series models, with a gross weight of only 2320kgs and a max tipping load of 3180kgs, it offers the highest lifting capacity of any Telescopic Loader that can legally be transported this way.
Sherpa
"I refer to the SHERPA Mini Loader as our 'greatest labour saver' and it's often overlooked due to it's diminutive size. However, these little machines can work almost anywhere, they fit through single doors and gateways, the electric models work indoors and with a range of innovative attachments they reduce manual labour by a massive margin in spaces where machinery can't normally be used" says Steve Hadfield, MD at Compact Loaders UK.
SHERPA Mini loaders B.V. was founded in The Netherlands in the late 1980s and like MultiOne, is another brand with a long history of innovation and development. Initially the Importer for BENELUX of the Opico Skidster, this transitioned into the SHERPA Mini loader in the mid 1990s and 'evolution, not revolution' has continued ever since.
The SHERPA is of 'stand on design', with compact dimensions. From just 76cm wide, only 150cm in length and around 135cm tall, many customers transport these diminutive Loaders in the back of their van!
SHERPA were the first to launch an Electric Skidsteer model as early as 2014 and this has become a favourite amongst internal Construction, Demolition and Soft-Strip professionals across the world. In countries like the USA where construction site labour cost is exceptionally high, it's a real winner. The extended battery run time of 6 hours (continuous use in loading application) from one charge can be further enhanced with a battery 'change-over' system to allow multi-shift use of one machine.
The new Z Series is currently in launch, with some models already out with customers. This is a new range of 'premium' performance SHERPA Mini Loaders, with enhanced ergonomics, increased lifting capacity, higher torque transmission and much more. In 2020 the Z Series designer's were rewarded with a European Product Design Award in the transportation category, based on a prototype – https://www.productdesignaward.eu/
Twinca
TWINCA was the latest addition to the range, added in 2022 and is the ideal companion to the SHERPA Mini Loader, especially in Electric guise. These are innovative machines, built to a very high quality level in Denmark from Manufacturer TWINCA A/S.
"For our SHERPA customers looking for the ultimate in labour saving, adding a TWINCA Dumper makes great sense especially for internal applications. For example, an Internal Demolition or Soft-Strip team can be clearing the job site with SHERPA Electric Mini Loaders and use them to load the TWINCA. The Dumper can then transport loads of upto 8ookgs swiftly from indoors to outside where their high tipping capability can discharge into skips. Even high capacity Ro-Ro skips can be reached." Says Steve.
Just like the SHERPA, the TWINCA has an extended battery run time of upto 6 hours, which is ample for the typical 8hr shift patterns on UK sites nowadays. After shift, re-charging is achieved via an on board dual voltage charger, this is 'self seeking' from 110v to 240v.
More info…
Tel: 0800 233 5490
Email: info@compactloaders.co.uk
Web: www.compactloaders.co.uk
MultiOne – www.multione.co.uk
Sherpa – www.sherpaminiloaders.com
Twinca – www.electricdumpers.co.uk/twinca
Social Media…
www.facebook.com/CompactLoaders
www.linkedin.com/company/compactloaders
twitter.com/MultioneUk
www.instagram.com/compactloaders_uk/