£10.5 MILLION LIBRARY EDGES CLOSER TO COMPLETION FOLLOWING INTERIOR FIT-OUT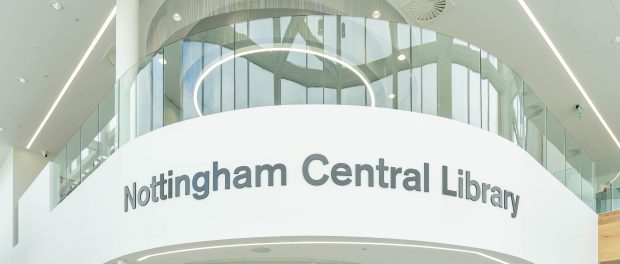 THE NEW Nottingham Central Library is one step closer to opening its doors following the completion of a stunning interior fit out and refurbishment by Overbury.
Putting children and young people at the heart of its design, the new library, which is owned by Nottingham City Council, includes an immersive storytelling wall and different creative zones for a range of ages. The dynamic space also features an events area that forms part of the foyer and public cafe, art displays, a gaming area for teenagers, a dedicated children's library, a teaching area, and a bookable 100-person meeting space.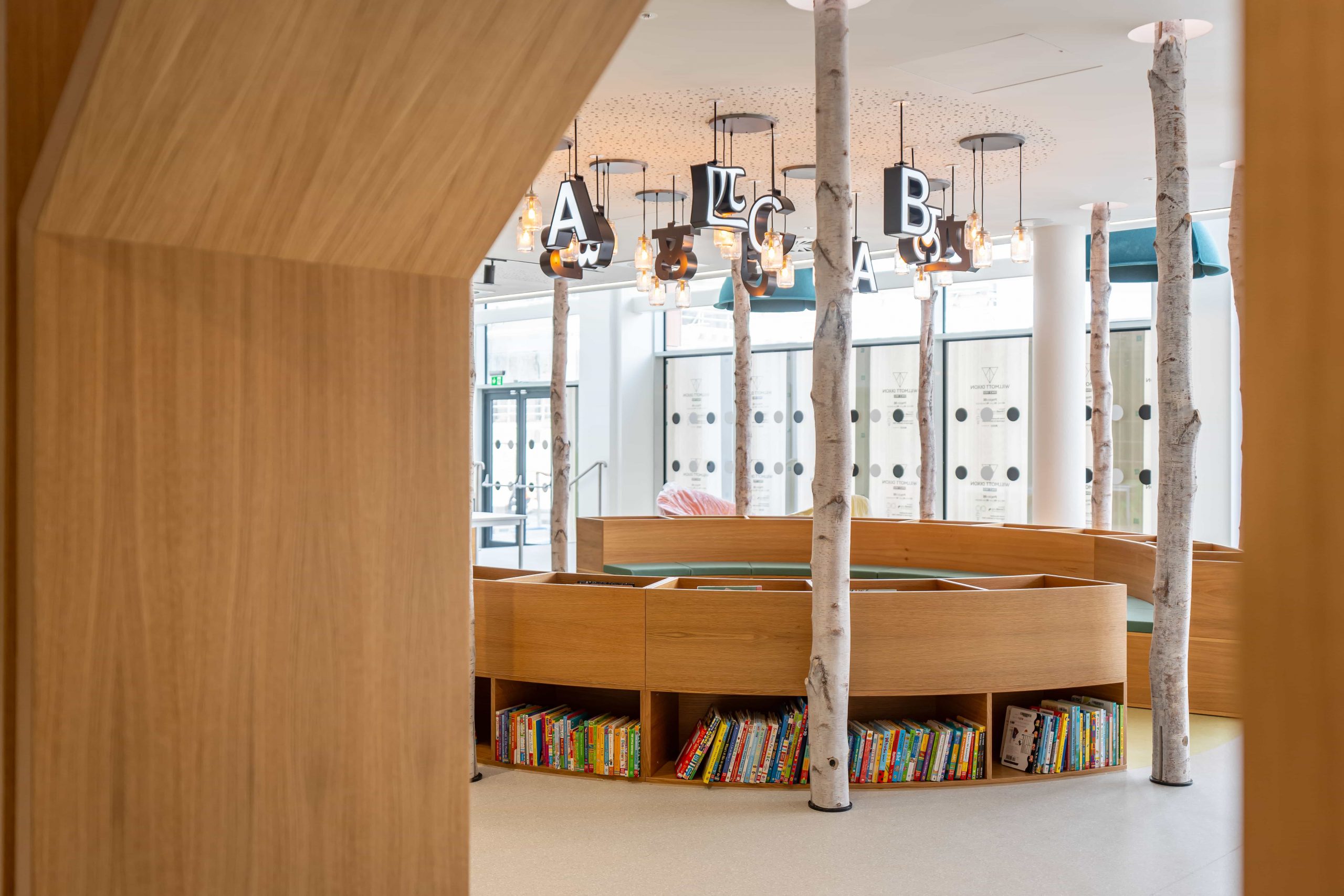 The library, which will officially open to the public on the 28 November 2023, is Overbury's first major project to be procured through SCAPE – one of the UK's leading public sector procurement authorities – and made possible alongside Morgan Sindall Construction. This led to a large focus on building back into the city by allocating project spend with local Nottinghamshire businesses and the wider Midlands region.
Working to set KPIs with Morgan Sindall Construction and SCAPE Consultancy, the project delivered over £2m in social value, with more than 60% of spend achieved with local SMEs, as well as over £62k through non-profit organisations.
Andrew Wood, Managing Director at Overbury, said: "Libraries are an important part of local communities and can be a vital lifeline for many people. This building will play a big part in the future of the city as it undergoes large-scale transformation, and it's been exciting to see the new library take shape and the interiors have really made the building come alive.

"It's also important to ensure the library is a welcoming environment for children and young people to help inspire a love of reading and books in our future generations. The space has been designed with them in mind and has been brought to fruition with the help of several local businesses and charitable organisations, delivering real value to the local area."
The library marks a further step in Nottingham City Council's ambitious plans to create a modern and dynamic library at the centre of the multi-million-pound Broad Marsh regeneration area. It is a key element of the city's Southside regeneration area and plans include a new 'green heart' on the former Broad Marsh site and a green infrastructure network linking Nottingham Castle to the Island Quarter regeneration site.
Cllr Pavlos Kotsonis, Portfolio Holder for Leisure and Culture at Nottingham City Council, said: "The library is looking fantastic, and we are excited to open the doors the public in November. We have worked hard with construction partners like Overbury to create a state-of- the art facility. It is a library that residents and visitors of all ages will love, but especially children who will be able to enjoy a fantastic collection of books, an immersive audio-visual story telling room and plenty of spaces to enjoy reading and take part in fun activities."
The firm collaborated with leading multi-disciplinary consultancy Pick Everard, acclaimed architects FaulknerBrowns, M&E consultancy Chord, and Morgan Sindall Construction to create the library, which spans three levels, with glass balustrades and a suspended staircase linking two floors.
Richard Fielding, Area Director at Morgan Sindall Construction, said: "Working with Overbury to deliver work through the SCAPE framework means we can collectively strive to transform local communities and leave meaningful and lasting legacies behind. This new Central Library is a perfect example of us working together to achieve exactly that, and we can't wait to open its doors and for it to become a cornerstone of the community.
"It was also a privilege to give back to the city by working with local SMEs and supporting community initiatives to further benefit the area. The library is a truly modern, dynamic space and is something we hope the young people of today and tomorrow will enjoy for years to come."

Steve Dickson, Associate Partner at FaulknerBrowns Architects said: "Our design references and is influenced by the city and its surroundings; colours, textures, and materials are of Nottingham, giving the interior a sense of place and connection to its environment. The library landscape is also rich in both traditional media and digital media, enabling learning for all."

Mark Robinson, Group Chief Executive at SCAPE said: "Through SCAPE, the new library will be delivered with speed, efficiency, and value for money, and will ensure that a positive, sustainable legacy is created through Morgan Sindall's ongoing social value initiatives and community engagement.

"Nottingham City Council's plan for regenerating the wider Broad Marsh area is redefining how public facilities can be integrated into modern spaces, to meet the needs of a changing community, and each project within this is vital to help the city become carbon neutral by 2028."
The project has prioritised cost-effective, modern techniques and the designs – taking inspiration from Nottingham's lace-making heritage – utilising carefully selected materials, such as timber for a natural aesthetic and improved sustainability.
"We're now looking to forward to the ongoing work in the wider regeneration zone, which will continue to transform the largest development space in any core city in Europe."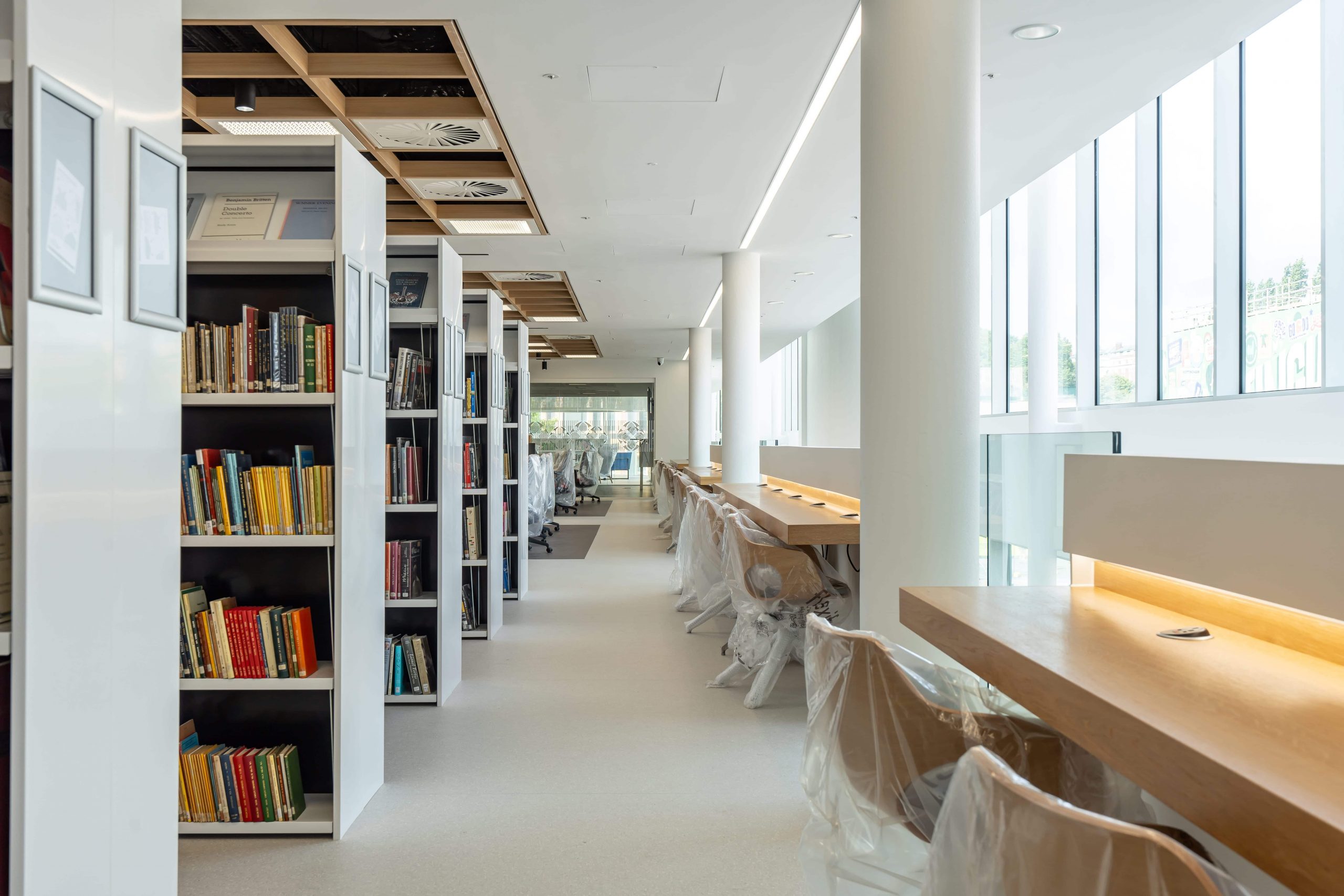 For more information about Overbury, please visit www.overbury.com