Clevedon cladding company to support mental health charity for 2019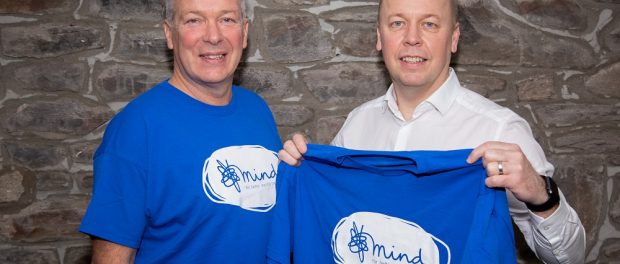 Aquarian Cladding Systems have announced that they will be supporting mental health charity MIND in 2019 by raising funds for the hugely important work they do.
Every year a member of Aquarian's staff is encouraged to enter a draw that sees the winner invited to choose a charity that means something to them. The company provides them with a 'fighting fund' and they are then challenged with raising as much money as possible throughout the year to support their choice.
This year's winner was Eamonn Geoghegan, Technical Sales Manager in the South East, and he selected MIND, a charity that provides information and advice to people with mental health problems and lobbies government and local authorities on their behalf.
Eamonn will be Chief Fundraiser for the year and it will be up to him to organise events and come up with ideas for the company to support to raise money and awareness for MIND.
"It is a real pleasure and privilege to have won the opportunity to choose Aquarian's Charity of the Year and to accept the challenge of Chief Fundraiser," said Eamonn.
"I will be doing all I can to help Aquarian make a difference to MIND and am very excited about the year ahead. I have a few ideas in mind and am looking forward to sharing the fun, challenge and reward of making a difference."
Aquarian started the charity initiative around two years ago after coinciding it with their 10th birthday and raising £5,000 for Sarcoma UK. The company also took part in a skydive to raise almost £10,000 a year later.
Aquarian's Managing Director Paul Richards said: "Not only does it give us an opportunity as a company to support a worthwhile cause, but from my perspective it enables me to challenge the leadership of the staff and see how they take responsibility with something that they feel passionate about."
North Somerset-based Aquarian Cladding supplies brick and terracotta cladding systems to the UK construction industry across a wide range of sectors, from residential to commercial.
For more information on Aquarian Cladding Systems, telephone 0808 223 9080, email info@aquariancladding.co.uk or visit www.aquariancladding.co.uk.