Mace & Stevenage Borough Council sign up for major boost to town centre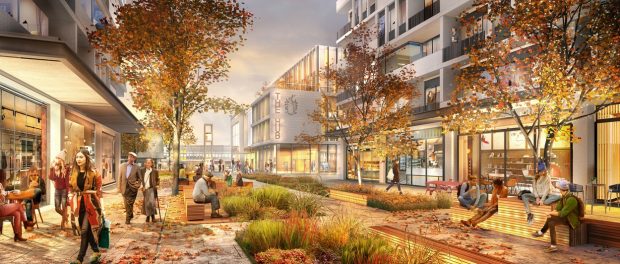 An ambitious regeneration scheme for Stevenage town centre is moving forward after a contract was agreed.
Mace and Stevenage Borough Council are partnering on the project, which will see a whole new quarter of five distinct character areas created on the western side of the town centre.
The £350 million SG1 development includes plans to create a series of new streets within Stevenage, as well as a redesigned, modern Town Square which will complement and enhance the unique architectural heritage of Stevenage. The development will also create inviting new public spaces, as well as a public services hub that will bring together key council services in a single building.
An extensive consultation will be held this summer on the plans.
David Grover, Mace's Chief Operating Officer for Development, said: "This agreement marks a major step forward for the transformation of Stevenage town centre. With a contract agreed we can now get started in earnest in delivering the regeneration of the town centre – I look forward to seeing our exciting plans come to life."
Cllr Sharon Taylor, Leader of Stevenage Borough Council, added: "This is an exciting time for Stevenage and the future of our town centre. Signing this deal with Mace highlights our ambitions to grow our town and improve the services and amenities we currently offer to residents. We've seen a number of smaller projects already completed in our town centre as part of the regeneration programme including Market Place, Vista Tower and more, but SG1 will be one of the critical elements in driving significant, positive changes to our Town Centre. We're delighted to have Mace on board and can't wait for development to get underway."
Work is expected to take place over several phases with the first construction project commencing in 2020.