Britain's first net zero carbon homes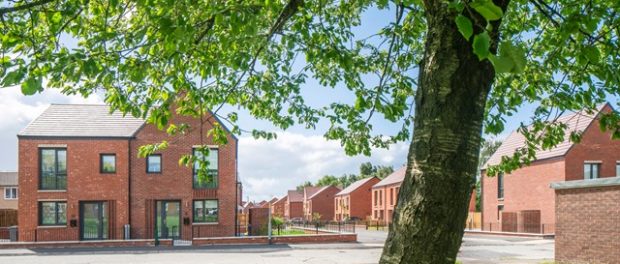 Where might you expect to find cutting edge homes which are both energy efficient and environmentally friendly?
The understandable response may well be to assume such housing is located in desirable postcodes amongst private ownership. Places where the desire for pioneering design and a bid to mitigate climate change is matched by deep and generous pockets.
So, it`s surprising to learn that Britain`s first net zero carbon homes aren`t located in places normally associated with A-list addresses. In fact, they`re not even privately owned. Rather such breakthrough home building has been taking place on a Manchester council estate- thanks to a local, family-owned company, John Southworth, who have been pushing boundaries to build cost effective, energy-saving properties. A move which has resulted in the building of the country`s first truly net zero carbon houses for social rent and which are powered from on-site renewable energy sources.
Working with housing and community services provider, One Manchester, the pioneering project comprises 22 houses in Blackrock Street, Beswick, two miles from city centre Manchester. And Managing Director of John Southworth, Steven Brown, hopes his company`s ground-breaking development will set the agenda for others to follow.
He said;
"The issue with some social housing is that it has to be constructed at low cost. Whereas private developers can throw as much as they want at a project.  But as a company we are committed to providing affordable quality housing that`s also energy efficient and good for the planet. To build something net zero carbon and affordable."

"Obviously, buildings need energy for heat and light.  Our aim was to design and build properties in a way which would mean this energy would be generated by the house itself or recycled by the building."
Buildings are a significant culprit of carbon emissions – accountable for 35% of total global energy consumption.  So how have John Southworth achieved the aim?
The project, like other builders, has followed Passivhaus principles – created to rigorous energy efficient design standards so that they maintain an almost constant temperature. The difference, says Steven, is that John Southworth has gone one step further. Removing the need for energy bills or imported supplies that harm the planet. The homes are fully electric-powered with air source heat pumps, MVHR, triple glazing, thermal bridge free construction and 0.6 air changes per hour – all of which make the development truly unique.
Bedrooms and living room windows are located so that they gain sunlight in the winter and shading in the summer, so it warms the building when heat is required. In fact, there may even be scope for householders to be in pocket as they assist climate change.
Says Steven:
"All of this generates renewable electricity in with all supplies that aren't use fed back into the grid Under the Smart Export Guarantee (SEG) householders are then paid for every unit of electricity they feed back."
Many Housing associations are on a drive to achieve net zero, but many are still puzzling how to do it. It seems that John Southworth may well have found the answer.
Adds Steven:
"John Southworth has a motto of 'building futures today'. We want to build a legacy and we hope other builders around the country will follow suit. But we particularly want to help Manchester – it's why as a firm we use local labourers, local subcontractors and local materials. We`ve been in the same family business for 30 years and are invested in the community.

We are committed to building and contributing to communities and delivering a social return on investment and bringing added values to areas. We are dedicated to constructing net zero carbon social housing development with three more in the pipeline. It is our greatest wish that where we lead others will follow – to benefit everyone."