Barratt Developments welcomes local MP to award-winning East Kilbride development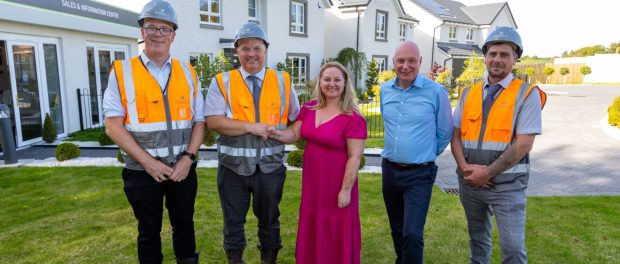 Lisa Cameron MP was welcomed by Barratt Developments to Jackton Hall in East Kilbride last week in celebration of its site manager's Pride in the Job Quality Award win.
Michael Hastings, Site Manager at Jackton Hall, received the Pride in the Job Quality Award, known as the "Oscars of the housebuilding industry", from the National House Building Council (NHBC) – setting him apart as one of the very best in the country.
 This year a total of 19 site managers from Barratt Developments Scotland, which includes Barratt Homes and David Wilson Homes, won a top national award for the quality of the homes they are building – the most ever received by the housebuilder in Scotland.
Lisa Cameron, MP for East Kilbride, Strathaven and Lesmahagow visited the Jackton Hall development to meet award-winner Michael along with David Scott, Managing Director of Barratt and David Wilson Homes West Scotland, and Construction Director Craig McFarlane. Lisa was given a tour of the site and was introduced to other Barratt employees from the construction and sales team.
David Scott, managing director of Barratt and David Wilson Homes West Scotland, said:
"We were thrilled to welcome Lisa Cameron MP to Jackton Hall and to demonstrate the quality which we are building across all tenures in her constituency.

"The Pride in the Job awards acknowledge the work we're doing to showcase our commitment to building the highest standard of homes in East Kilbride and across Scotland, with our elite site manager Michael Hastings being among those demonstrating our award-winning customer care."
Lisa Cameron, MP for East Kilbride, Strathaven and Lesmahagow, said:
"I was delighted to visit the Barratt site to meet with Michael and the team after writing him a letter of congratulations from the House of Commons. Michael and Barratt are producing high quality workmanship across our constituency and I was so pleased to thank them in person and to also see the affordable homes that will make such a difference to local families."
Jackton Hall, located in the semi-rural town of Jackton hosts an array of stunning homes, creating a beautiful neighbourhood suited for young families. The development has easy access to a range of schools whilst couples and professionals will enjoy the fantastic range of local shops and eateries on offer nearby. Surrounded by idyllic open green space, Jackton Hall is a great location for walking and outdoor exercise – the development also benefits from being within easy reach of everyday amenities. The development has exciting offers to suit potential buyers' next move.
Within Lisa's constituency, David Cooper, Site Manager at Thornton View, also received a Pride in the Job Quality Award.
In addition to the recent Pride in the Job award wins, Barratt Developments has also been awarded 5 stars by its customers for satisfaction in the annual Home Builders Federation (HBF) new homes survey. To be rated 5 star means that more than 90% of its customers would recommend one of its homes to a friend, with Barratt being the only major national housebuilder to be rated 5 star for 14 years in a row.
If you would like to pay a visit to Jackton Hall and explore the Balloch and Dean Barratt show homes, find our more here.