Barratt developments Scotland pledges £50,000 fund to aid food inequality and support for cancer care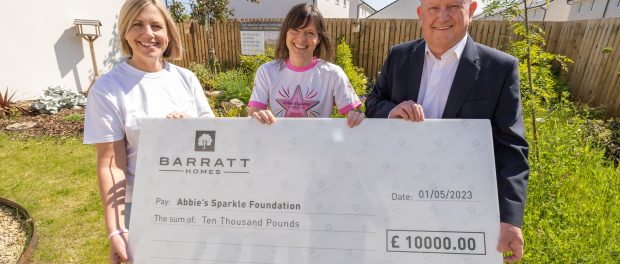 Funds to go to charities supporting those who are facing food inequality, and which offer cancer care across Scotland 
Barratt Developments Scotland, which includes Barratt Homes, David Wilson Homes, has donated £50,000 to charities providing support for individuals living with cancer and families impacted by food inequality.
Five charities spanning the length and breadth of Scotland have received a share of the funds, which will go towards helping low-income families struggling with the cost of food  and supporting organisations which provide lifeline care for those affected by cancer.
Beneficiaries include Empty Kitchens, Full Hearts in Edinburgh, Launch Foods in Glasgow, Dundee-based Dundee Bairns, Abbie's Sparkle Foundation in Elgin and Friends of ANCHOR in Aberdeen, which all received a £10,000 donation from Barratt Developments Scotland.
 Douglas McLeod, Regional Managing Director for Barratt Developments Scotland, said:
"As Scotland's leading housebuilder, with a national footprint, we're committed to giving back to the areas in which we build.

"The charities we are supporting through this fund provide vital support to families and individuals across the country who are faced with difficult circumstances.We're pleased to be able to provide some support, and hope that it will help the charities in continuing their life-changing work across Scotland."
The donation to Empty Kitchens, Full Hearts, will go towards helping the charity carry out its work of turning surplus food into nourishing meals for families in need, reaching marginalised groups across Edinburgh.
Emily Gifford, Fundraising Manager at Empty Kitchens, Full Hearts, said:
"This generous support from Barratt Developments Scotland will go directly towards cooking, packing, and delivering meals to people in need across Edinburgh, as well as signposting towards other relevant support services.

"At the moment, we're working with around 700 people each week who are facing diverse challenges including poverty, short and long-term physical and mental health conditions, social isolation, unemployment and debt. We are looking forward to working with the Foundation over the coming year to provide support to people throughout the city."
With a coffee shop, Launch Coffee, on Bothwell Street in Glasgow, Launch Foods works all year round to provide children with free hot and nutritious food after their school day and during the holidays.
Craig Johnston, founder of Launch Foods, said:
"For every pound we get we can feed a child in Glasgow – proving that a little can go a long way.

"We're only a small team and not government funded, which means we rely heavily on donations. We're grateful to have Barratt Developments on board and helping to support something that makes such a difference to so many children's lives."
A third of children in Dundee are living in poverty.Through Barratt Developments' donation, Dundee Bairns can continue to provide basic needs for children in the city, helping them access food, clothing, activity, and other essentials they need to thrive.
Genna Millar, Project Coordinator at Dundee Bairns, said:
"Dundee Bairns is grateful to Barratt Developments for such a generous donation of £10,000.

"The funding has come along at an especially busy time for Dundee Bairns – we are set to deliver our 7th annual summer 'Fun and Food' programme, delivering meals and funding for activities to over 100 schools and community projects, targeting some of the most vulnerable children in the city."
Based in Aberdeen, Friends of ANCHOR has a collection of specialised wards and clinics within Aberdeen Royal Infirmary, giving treatment and support to those diagnosed with cancer. Barratt Development's donation will go towards funding specially crafted experiences for those receiving end of life care for an oncology or haematology illness in the North-east of Scotland and the Northern Isles.
Sarah-Jane Hogg, Director at Friends of ANCHOR, said:
"With such a generous gift from Barratt Developments, we'll be able to fund at least 10 Making Memories experiences for patients and their loved ones.

"We're incredibly grateful to the Foundation and the Barratt team for choosing Friends of ANCHOR to benefit from this donation, every penny of which will go to the cause."
Abbie's Sparkle Foundation, based in Elgin, provides support for children with cancer across the UK. The organisation gives children gifts and grants – referred to as 'sparkles' – in memory of Abbie who passed away aged 15 on Christmas Day in 2017, after living with Sarcoma – a rare form of cancer.
Tammy Main, Abbie's mother and Abbie's Sparkle Foundation Charity Manager, said:
"Abbie's Sparkle Foundation is delighted to receive this hugely generous donation from Barratt Developments. We are all volunteers and they made their giving as easy as possible for us.

"It was lovely to meet Doug McLeod at the David Wilson development in Elgin to share Abbie's inspirational story and for him to hear the amazing difference this donation will make. We really do appreciate all the support we receive from our kind community."
For more information on Barratt Developments Scotland, which includes Barratt Homes and David Wilson Homes, visit: www.barrattdevelopments.co.uk