ANS Global moves closer to completing Europe's largest living wall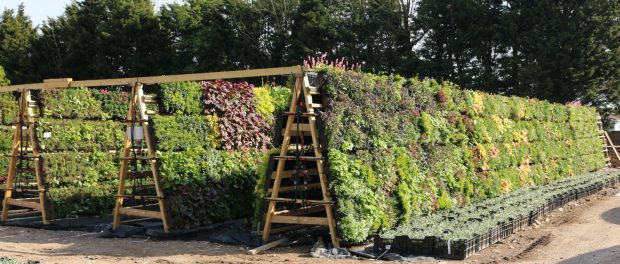 Located in Salford, New Bailey, a 12-storey office development known as Eden is set to feature the largest living wall in Europe. With aims to cover a surface area of approximately 3,000m2, ANS Global are in the process of nursing 350,000 plants, which will each take part in producing the second largest living wall in the world.
Prioritising fire safety, Developers changed the original plan
But this all-encompassing, 32 specie living wall was not always the plan for Eden. When a previous scheme had proposed the combination of Ivy and metal wirings, ANS Global were quick to highlight the risks with fire and bring the flaws of the initial plans to the developer's attention. Instead, a modular living wall system designed and implemented by ANS Global was approved.
Steve McIntyre, Principal Urban Environmental Consultant at ANS Global, was surprised to discover Eden's initial plans: "I couldn't believe my eyes when I saw that the plans included Ivy and metal wirings. Our modular living wall system ensures the relevant fire classifications are met by achieving Class B,s2-d0 and we use the latest irrigation technology to maximise fire safety. Each species of plant has been carefully selected to minimise the risk of fire and our maintenance plans ensure the soil remains moist to limit combustibility."
The project will increase biodiversity and remove toxins
Set to be completed in May 2023, the living wall will use natural soil over hydroponics and provide several environmental benefits to its local Salford area. These include a significant increase in biodiversity, providing habitats for various wildlife, removing toxins from the atmosphere, and improving the building's thermal performance.
Water usage will be reduced with the irrigation system
To further support the environmental goals of the Eden Project, rainwater will be harvested and stored at the roof for use with the living wall's irrigation system. This will be responsible for maintaining a healthy living wall, while supporting the reduction in water usage across the development.
Having been awarded WiredScore Platinum and BREEAM outstanding, Eden will not only provide an inspiring place for businesses to operate in but will also allow organisations to demonstrate their commitment in protecting our planet.