Actis helps build Community Shed to boost neighbourhood spirit and tackle loneliness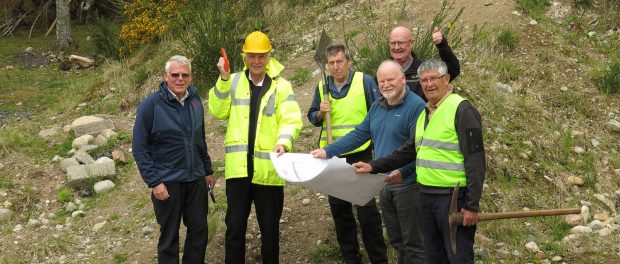 A new community building aimed at enabling people to get involved in interesting pursuits while making friends is being built in Aberdeenshire – with help from insulation specialist Actis.
The timber frame construction in Aboyne is part of the growing Men's Shed movement – although this one will be open to both sexes.
Men's Sheds provide everything one would find in a conventional garden shed on a mega scale and are designed to encourage men and, in this case, women to get together over a shared passion for making things, with the aim of encouraging friendships and reducing loneliness.
They are usually more cuckoo like in their quest for a base, making their homes in buildings originally designed for other purposes. But in the case of this shed, those behind the scheme opted for a new build, having been unable to find a nest in which to make their home.
Insulation specialist Actis is one of a number of companies offering their products or services free of charge to help reduce the cost of creating such an enterprise, as part of its policy of giving something back to the communities in which it operates. The total budget for the project is likely to be around the £320,000 mark.
The Aboyne and Mid-Deeside Community Shed will become one of more than 400 such facilities across the UK.
The 3,500 sq ft, two storey timber frame building is due to open its doors in mid 2020 – although that date could change depending on the amount of hands on help and additional funding available.
The downstairs workshop will be run by the Men's Shed, offering woodwork, metalwork, welding, car maintenance, small appliance repair, electronics projects and amateur radio pursuits to both men and women.
Plans are for the upstairs floor to be used for arts, craft and music groups, keep fit, pilates and yoga, with a social area providing facilities for small groups and general social interaction in line with one of the project's principal aims – to combat loneliness and improve general wellbeing. It will also have a large kitchen for teaching cookery and kitchen skills as well as catering, and a small office.
Actis is donating nearly 150 sq m of insulating breather membrane BoostR Hybrid, more than 130sq m of 50mm honeycomb insulation Hybris and an identical quantity of insulating vapour control layer HControl Hybrid towards the project.
Actis' previous donations for community projects have included providing 100 sq m of Hybris to a Devon family affected by cerebral palsy and leukaemia who starred in BBC home improvement programme DIY SOS: The Big Build.
The insulation specialist also helped a family with a severely autistic son insulate a special sensory room in their Northumberland home.
Actis regional sales director for the North and Scotland, Jemma Harris, said: "It's very rewarding to put something back into the communities in which we work. The Men's Shed movement sounds such a great idea especially as part of a wider community based enterprise.

"Friends are so important. So these Sheds – which are in fact about as far from a traditional shed at the bottom of the garden as you can get – provide the kind of things you'd find in your own shed but on a massive scale, and with people to chat to and have a cup of tea with to boot. And it's all free to users! What's not to like?"
Rotary club member Stuart Robertson, one of the driving forces behind the shed's creation, explained the thinking behind setting it up.

"A need was seen for somewhere that men could go to learn and carry out practical skills and help mitigate the rural social isolation which is quite a concern here in mid-Deeside. The project has grown from just a Men's Shed to a full community building. We have had just as much interest from women as men and the project now is clearly inclusive."