Mick George Ltd go 'Down South'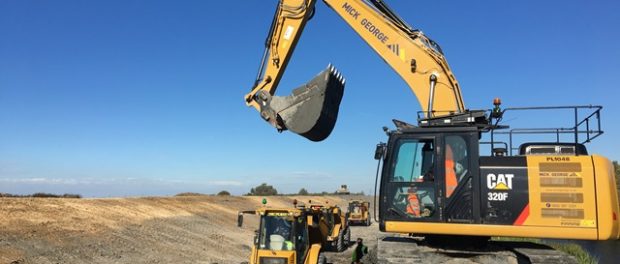 Having made no secret of their plans to expand geographically and having already delivered contracting services as far North as Arbroath, Mick George Ltd has now landed their most Southernly job to date, in Southampton, on the Adanac Park development.
The business has established itself in the East Anglian and East Midlands regions but having secured works 513 miles apart, literally from one-end of the country to the other; and into Scotland, the business really can now be recognised as a national Contractor.
The Company has been gradually moving South, completing Earthworks, Demolition, Stabilisation and Environmental projects in and around Greater London; applying their skills on high profile schemes such as Port Tilbury, Ware Recycling Centre, Runwell Hospital to name just a few.
Adanac Park has planning permission to provide a total of 825,000 sq.ft of office, research and manufacturing space and has been allocated as a prime location for employment by Test Valley Borough Council.
This two phased Adanac Park development will form Southampton's premier new business park. The site now encompasses over 75-acres of mixed-use development; comprising the existing National headquarters of the Ordnance Survey amongst a mix of commercial, industrial, retail and hotel units, as well as housing.
Michael George, Managing Director at Mick George Ltd commented: ''Being awarded this contract is further evidence of our intent as a business. We have high aspirations and forecasts for our Contracting division, with the geographical expansion just one element of the long-term strategy.''
George continued: ''The fact that we're being awarded work in regions that we're not yet familiar is a testament to the quality that we deliver. We will endeavour to produce to the high, exacting standards, regardless of where in the country we're employed.''