Yorkshire landscaping firm's partnership with Leeds United paves the way to success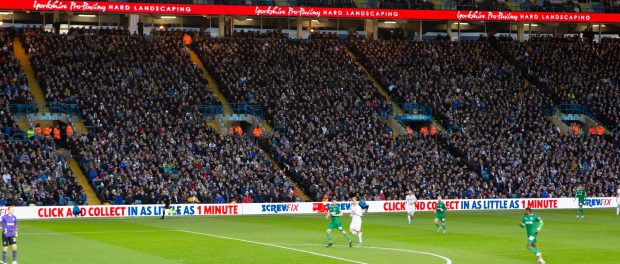 Family run paving and groundworks company, Yorkshire Pro Paving, has announced an agreement to become an official Leeds United Business Club partner until the end of the 2022 Premier League season. The partnership aims to promote Yorkshire Pro Paving's huge range of domestic and commercial paving and groundworks services to Leeds United's vast fanbase.
With over a decade of experience behind them, Yorkshire Pro Paving has developed a reputation across the county for delivering high quality solutions for homeowners and large-scale construction projects.
As well as installing new driveways, patios and all hard landscaping for domestic customers seeking a high-quality solution, Yorkshire Pro Paving has provided a full turnkey solution for many commercial projects across the region.
Leeds United is a club close to the heart of business owner Thomas Armitage, with the company having delivered large scale paving projects at both Bremner Square and Centenary Square, which fans of the club will know well.
Tom explains "We pride ourselves on our reputation. 100% of our projects are delivered in Yorkshire and surrounding areas so we simply can't afford to deliver anything but the highest standards, whether that is laying artificial turf for a family in Headingley, or undertaking the groundworks for the new Hilton hotel in York."
Explaining the reasons why Yorkshire Pro Paving has become a Leeds United Business Club partner, Tom continues,
"I'm a Leeds fan, of course, and have spent many years cheering the team on from the Kop, together with my three son's who in the future hope to be a huge part of the business. However, the reason we partnered with the Leeds United Business Club was because of the huge platform it provides for us to share our range of services with both domestic and commercial customers. Football is a great leveler, and the Business Club platform gives us the opportunity to reach out to a wide audience, which reflects the huge range of services we offer."
The Leeds United Business Club is managed by Eleven Sports Media, who work with the club and regional businesses, such as Yorkshire Pro Paving, to create partnerships that help them connect with local fans.
Eleven Sports Media's Jordan Wilson added
"Yorkshire Pro Paving is a great example of a local business which has grown organically by working hard and delivering high quality. We're excited to welcome them as a Leeds United Business Club member to help the company grow. As a business club member, we'll continue to work closely with Yorkshire Pro Paving to help them reach their audience using powerful digital channels, including high impact LED in the stadium, to reach fans watching on TV, as well as targeted social media and numerous other channels."
Yorkshire Pro Paving has recently moved into new premises in Otley, having outgrown its previous base thanks to the increasing demand for high quality local contractors.
Speaking of the move, Tom Armitage concluded,
"We're excited about the next chapter as we look to grow our range of domestic and commercial services. We're already starting to see the rewards from continually investing in our business, having worked on some huge city centre projects, including the prestigious Wellington Place and Nexus buildings at the University of Leeds and, more recently, a 140 housing development in York."
"We pride ourselves on being able to offer the approachability of a family run business, whilst delivering the professionalism and quality of an experienced contractor"
Yorkshire Pro Paving will continue to partner with the Leeds United Business Club until 2022, meaning fans will have plenty of opportunity to see the paving and groundworks company promoting their business at Elland Road throughout this season and next. For more information please visit http://www.yorkshirepropaving.co.uk/