Working in the rain: Here are 8 tips for keeping dry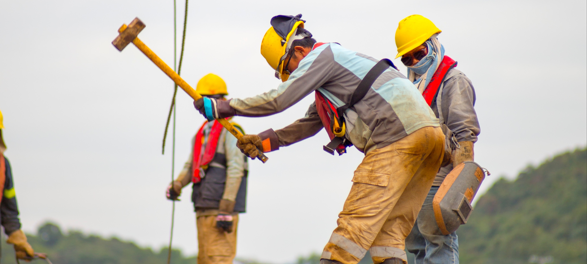 Working outdoors in cold, rainy weather can not only be uncomfortable and hinder your ability to complete your work, but it can also be very dangerous if not properly equipped.
With that in mind, the team at Workwear Express has provided their expert insight into staying dry while working outside, with eight must-haves for protection from the rain.
 Waterproof outerwear
Your waterproofs are the most essential items for keeping you dry when working in rainy weather conditions. From your jackets to your trousers, having waterproofs will prevent rain from penetrating your clothing and keep you feeling dry and comfortable throughout the day.
However, it's important to note that you need to choose properly fitted clothing, as this will impact the performance of your waterproofs. Clothing that is oversized might be too loose and let the rain in, whilst jackets or trousers that are too small will fail to cover your body for full protection.
 Breathable, moisture-wicking clothing
When working all day doing a strenuous job, sweating can often be unavoidable, which is why choosing breathable and moisture-wicking clothing is important.
Your t-shirts, jumpers, underwear or shorts should be made from lightweight, breathable fabrics, which will allow better air circulation and prevent moisture from becoming trapped and the feeling of being hot and clammy. You can also choose moisture-wicking materials that absorb moisture from your body and push it to the fabric's surface, to keep you feeling dry.
Correct footwear
Working in wet conditions requires waterproof, non-slip footwear to keep your feet dry and comfortable, alongside providing stability.
Having waterproof footwear that prevents your feet from getting cold and wet is vital, as it protects you against unwanted foot conditions like athlete's foot, poor circulation, or the more serious immersion foot. It's also important that your work footwear has a good grip to help you keep your feet stable and safe on wet surfaces and prevent slipping.
Protective headgear
Hats can be a great way to keep your head and face dry when working outside. If you work in the likes of construction, roadworks, waterworks, gas and oil, or forestry – then a hard hat with a rain cover can be a brilliant option.
Alternatively, if your job isn't likely to require a hard hat but you're still looking for some good protection from the rain, a waterproof bucket hat or wide-brimmed hat is a good choice.
Gloves
Having cold, wet hands can make it difficult for you to fulfil your work effectively, which is why waterproof gloves can be an essential piece of equipment when working outside.
Choosing a pair of gloves that allow complete flexibility will allow you to complete your jobs with a full range of movement, whilst still protecting your skin from the rain and preventing your fingers from becoming cold, chapped and numb.
Thermals
Accompanying rainy weather can also be cold temperatures, which is why having thermals when working outdoors can be crucial.
The extra layer of protection provides insulation, helping you retain your body heat and avoid cold-related issues like frostbite, chilblains and hypothermia. They also have the added benefit of being made from moisture-wicking materials that transport sweat away from the skin, which is important as wet clothes make you feel colder.
Breaks in sheltered areas
Working outside for long periods of time in the rain and cold can not only be uncomfortable, but also dangerous – and not to mention make you feel miserable.
That's why, whenever possible, you should take short breaks in sheltered areas to give your body's temperature time to warm up and your clothing the chance to dry off.
Spare clothes
It's always a good idea to have a spare set of clothes to hand during your working day, as this can be useful for a number of reasons.
If the weather is torrential and you feel extremely uncomfortable in your work clothes, you can easily change into your spare pair or have them to change into at the end of the day for your commute home, so that you don't feel uncomfortable when driving.