Work Gets Underway on Leeds High School Extension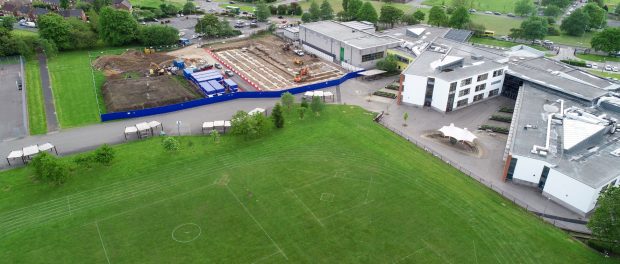 Work has begun on a contemporary two-storey extension at a Leeds high school, which will help increase capacity from 1,100 to 1,400.
Henry Boot Construction started construction on the new 2,500 m2 extension at Allerton High School on King Lane (LS17) this month, with works expected to be completed by late 2023.
The school will also benefit from additional car parking, attractive new landscaping and a minor refurbishment to an existing block as part of the build.
An additional 60 Y7 pupils, aged 11, will join the school in September as part of a phased plan to welcome 300 more pupils over the next few years.
Regional construction brand Henry Boot has worked closely with Leeds Local Education Partnership, Leeds City Council and design partner NPS Group during the pre-construction phase.
As work got underway, Henry Boot Construction Director, Craig Finn, said: "It's exciting to see work begin following a collaborative design process. This much-needed extension is getting the
Henry Boot treatment – an inclusive partnership approach with the client team and local supply chain.
"In addition to increasing capacity, the project will have a positive impact on the look and feel of the school as well. We're working in a live environment until the school breaks up for summer and we're working hard to minimise the impact on pupils, staff and other local stakeholders."
The Allerton High School project is the second recent school extension in Leeds for Henry Boot Construction.
Beeston Hill St Luke's C of E now benefits from a new, two-storey building comprising first floor classrooms and a SEN resource provision, as well as a hall and staff room on the ground floor.
The construction team also created a specialist arts space and behavioural support area at the school, as well as a new kitchen and courtyard – all contributing to a more effective and rewarding working environment for both students and teachers.
Jerome Bajkowski, General Manager at Leeds Local Enterprise Partnership, said: "We are extremally proud and excited to be part of this project delivery for this highly OFSTED rated school.
"As ever, many thanks Leeds City Council's Children's Services for entrusting us with such an important assignment. We are looking forward to working with Henry Boot over the next few months to secure a successful handover of this amazing new facility to the school."