Work begins on first homes at former Civic Centre site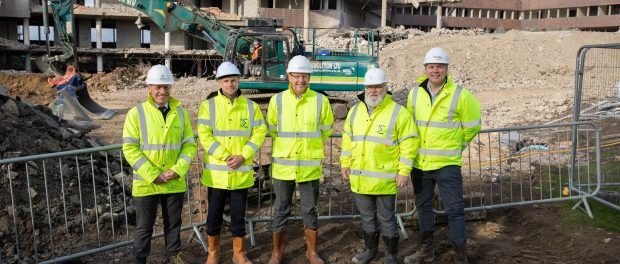 A land deal has been completed and construction of the first homes is underway at the former Sunderland Civic Centre site.
Demolition of the old building began in October last year, but now, following the purchase of the final piece of the site by regeneration specialist, Countryside Partnerships North East, building of the first 69 properties – on what was previously the surface level car park – has begun.
An agreement has also been reached with build to rent specialist, Sigma Capital, which will acquire 138 properties on the development – including these first 69.  All will be made available for private rent under Sigma's private rental brand, Simple Life Homes, improving the quality and choice of rental housing available in Sunderland City Centre.
Demolition of the old building continues, the first stage of an ambitious project to transform the site into a vibrant city centre community of 265 homes. The first properties are expected to be completed and ready for residents in autumn 2024.
The new development – which will also feature homes for sale through Countryside's house building brand, Linden Homes – will provide a range of attractive new properties, standing within high-quality public open spaces. These will include plenty of cycling and pedestrian links, improving access to the city centre.
Of particular note, is a proposal to recreate Saint George's Square – bomb damaged during the Second World War and lost to redevelopment in the 60s – with the Grade II listed Saint George's House as the focal point. The architecture and streetscape will be sensitive to the park side location and the Ashbrooke Conservation Area.
Andrew Rennie, Development Director with Countryside Partnerships North East, said:
"We are delighted to have unlocked this complex regeneration project which will be a flagship for us – on both a local and national level. It is fantastic to have completed another deal with Sunderland City Council, this one requiring very close partnership working, assisting the Council's move to the new City Hall.

"Our mixed tenure approach – and the agreement with Sigma – allows us to push on with confidence and to deliver new homes at pace. This will revitalise this part of the city centre, creating a vibrant community of high quality new homes in a sustainable location. The properties will be set around public, open green spaces and will offer excellent links to the high street and to local transport infrastructure."
The development is part of a wider programme of regeneration in the city centre that will see thousands of residents call the area home and a broader housing strategy created. It will provide a welcome boost to existing traders and improve connectivity between the city centre, neighbouring communities and Mowbray Park.  It also supports the council's plans to build more than 7,000 new homes within the next ten years.
Leader of Sunderland City Council, Councillor Graeme Miller, said:
"It's fantastic to see work commence so quickly on a new housing development that will bring more people right into the heart of Sunderland.

"We know that high quality housing in the heart of the city centre will not only create an attractive new community, it will also provide a boost for our businesses by day and night – so we're really pleased to see work getting underway on this scheme."
Kenny Brewster, Regional Investment and Acquisition Director at Sigma Capital commented:
"We're excited to be part of what we expect to be a landmark site for the area. Our long-standing partnership with Countryside Partnerships started in regeneration in 2014 – and having built thousands of build to rent homes together – we're proud to still be delivering high quality rental homes, in further locations across the UK.

"Our Simple Life homes on this development include a mix of one and two bedroomed apartments and two, three and four bedroomed family houses. Renters can expect a high standard specification, including a fully fitted kitchen, a pet-friendly approach to renting and a professional service throughout."
Countryside Partnerships North East is currently active on 12 construction sites around the North East region with a gross development value of just over £500 million and is working with eight housing associations and seven local authorities.
Formerly known locally as Vistry Partnerships North East, a national merger between Vistry Group and Countryside Partnerships last year, saw a rebrand and change of name. Work on North East projects has continued unaffected and it is very much business as usual.