What to check when upgrading timber sash windows in period properties
When upgrading windows in a traditional building, it is important that any new windows will add value to the property. This means that replacement windows should be both energy efficient and in keeping with the architectural style of the building.
Replacing traditional windows doesn't mean you have to settle for modern designs to improve the energy efficiency.
The sash window design
The first thing to consider is the design of the sash window. Installing the right design can make a big difference. The wrong window design is likely to standing out like an eyesore, losing some of the property's market value. In comparison, the right sash window can look beautiful and help retain the character of the building.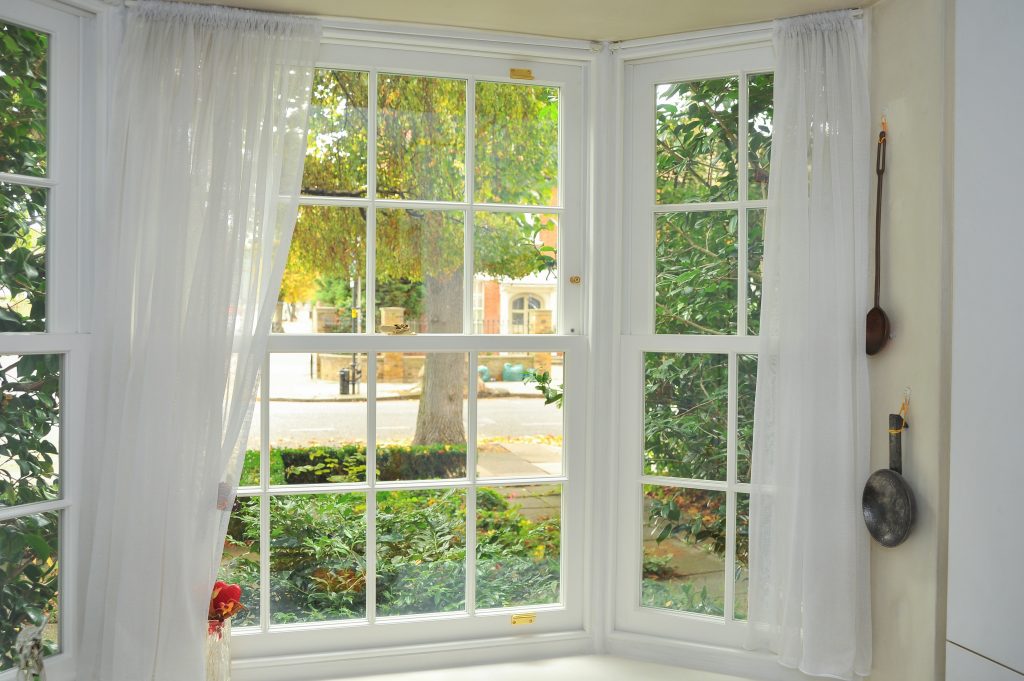 If you are lucky the property may still have the original sash windows, meaning that the existing design can be copied on a like-for-like basis.
If the windows have been unsympathetically replaced, it may require more work to find out what the windows should look like, but it is possible. The best starting point is to work out when the property was built and what sash windows were common in that period. For example, Victorian sash windows often had fewer glazing bars than their Georgian counterparts.
Type of timber
The type of timber used can make a big difference to the longevity and maintenance required for the window. You want to choose a timber that is strong, highly durable, and very stable.
Although this may cost more upfront, in the long-term using a higher quality wood will mean that the windows last longer and perform better.
With sustainability and being environmentally friendly becoming increasingly important, you may also want to check that the timber is FSC accredited. This means that the timber has been sustainably sourced.
Accoya is a sustainably sourced, stable, and highly durable wood. It requires minimum maintenance and comes with a 50-year anti-rot guarantee, reassuring you that it is designed to last.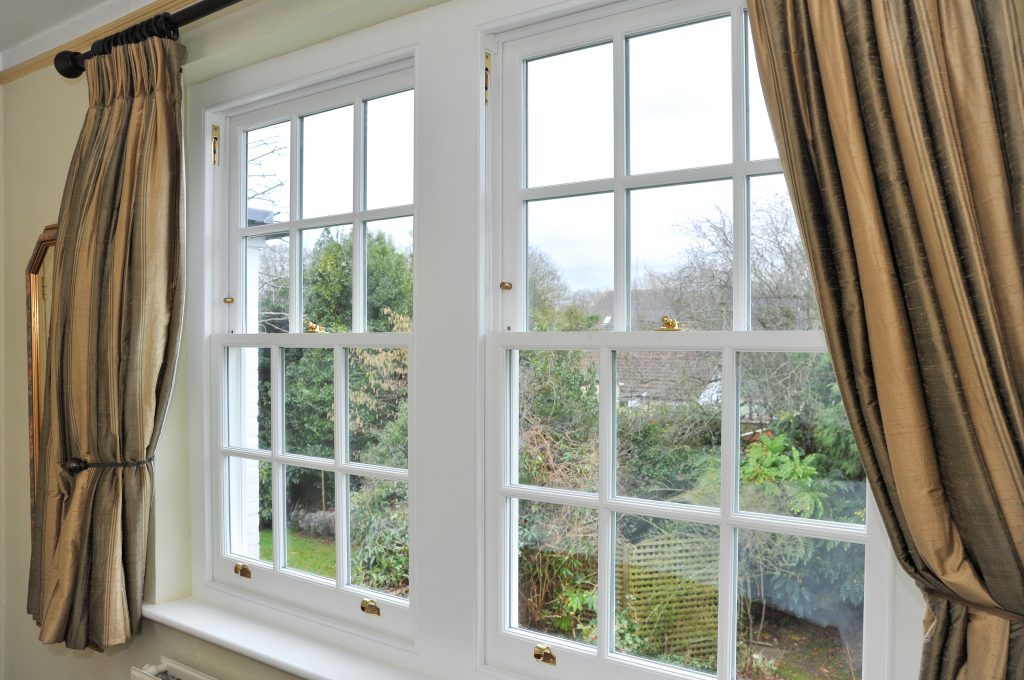 Improving energy efficiency
With increasing heating costs, and the drive to be more environmentally friendly, having an energy efficient home is becoming increasingly important.
Double glazing helps retain the warmth in your home by adding two panes of glass, separated by either argon or krypton gas. This helps reduce heat loss, improving energy efficiency.
Draught proofing in contrast helps seal the gaps found around the window. This helps prevent draughts and cold air entering the property from around the windows. If you are having your windows replaced, they will normally be draught proofed at the same time.
Do you require planning permission?
It is important to check whether the building is listed or in a Conservation Area.
Any listed building will require planning permission to change the windows. It is also worth noting that listed buildings are unlikely to be approved to install double glazing.
Article 4 Conservation Areas will also require planning permission to change the windows, although you have a better likelihood of having double glazing approved than in listed buildings.
If the building is in a non-Article 4 Conservation Area, no planning permission is required providing the windows are in keeping with the property and local area.
If you are unsure whether the building is listed or in a Conservation Area, contact the local authority who will be able to advise you.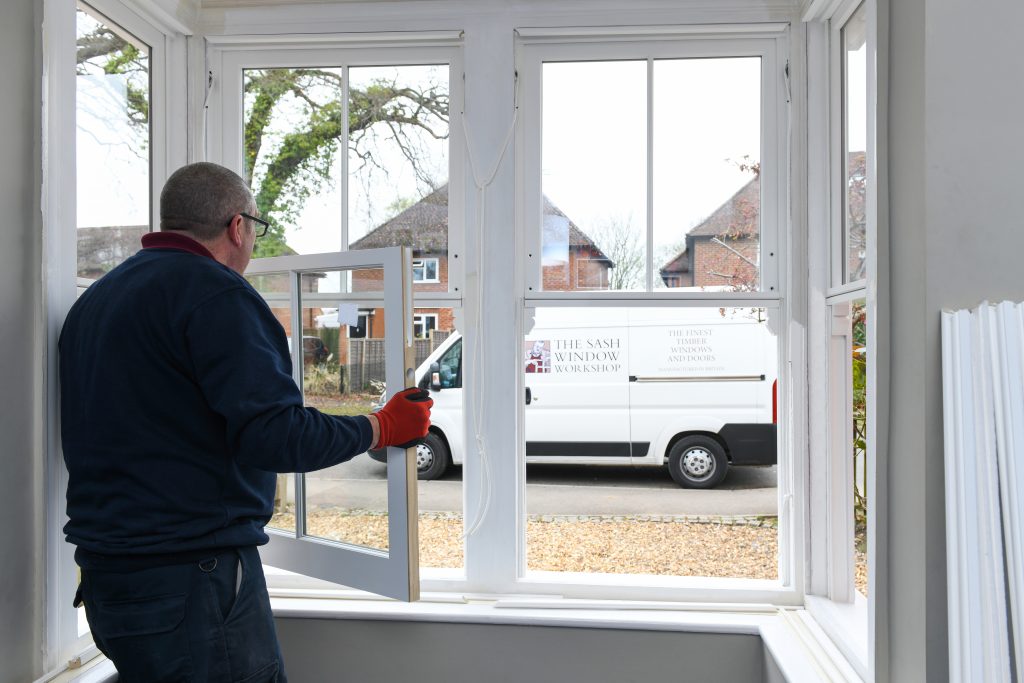 Do you need to replace the whole sash window?
Depending on the condition of the window frames, you may be able to just replace the moving parts (the sashes). This will often allow you to install double glazing without requiring the whole window to be replaced.
Replacement sashes are not only cheaper than complete new windows but also cause less disruption to the property.
Traditional timber sash windows in London and Southern England
When looking to upgrade the sash windows in a period property, you want to choose a company that has extensive experience carrying out similar work.
The Sash Window Workshop was established in 1994 and has extensive experience working on a variety of Georgian, Edwardian, Victorian and more modern timber sash windows. We offer a supply and installation service across London and Southern England, with a supply only service nationwide.
Our team of experts are available to help with your timber window requirements and will always provide you with the best advice.
We believe that it is important to provide high quality windows, alongside excellent customer service, demonstrated by the fact that we are an award-winning company and that roughly half of our orders every year are from existing customers or recommendations.
We are also FSC certified, FENSA registered and members of the Which? Trusted Trader scheme.