Waterman launches industry game-changer with first standardised approach to Materials Passports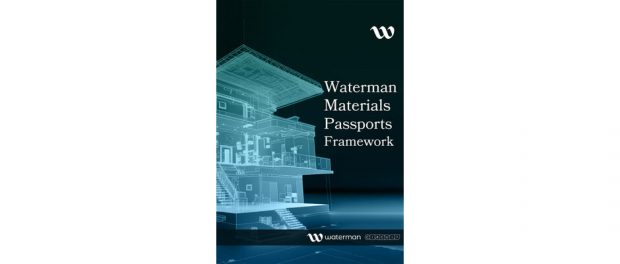 New Framework set to boost built environment circularity and unlock barriers for material reuse
Leading engineering and environmental consultancy Waterman Group has launched its Materials Passports Framework which sets a clear pathway to unlocking the barriers to material reuse in the construction industry.
A major step forward in helping the industry tackle its carbon reduction commitments, the Materials Passports Framework presents the first standardised approach to documenting and managing materials throughout their lifecycle.
The Framework provides a roadmap to create a comprehensive database of information, containing the identity, specifications and performance data for materials, products and building elements.
Materials Passports play a pioneering role in advancing sustainability within the construction industry. The data they contain will facilitate informed decision making on efficient material reuse while resolving the ambiguity around specification, performance and warranties of used materials.
Through this Framework, Waterman envisions the Materials Passports Protocol becoming an industry standard, driving collaboration and sustainability. Spearheaded by sustainability expert Anastasia Stella, with technical contributions from CIRCuIT project partners BRE, the Framework aligns with the forthcoming Digital Product Passport (DPP) requirements under the proposed Ecodesign for Sustainable Products Regulation (ESPR) in the European Union's European Green Deal.
Materials Passports are currently being trialled at Fletcher Priest Architects-designed Edenica, a City of London sustainability-focussed construction scheme by YardNine and BauMont Real Estate. Waterman is providing multidisciplinary support including sustainability strategy, building services, structural engineering and environmental specialist input, all whilst working in close collaboration with the project team, including Mace Construct, to enable the circular reuse of building materials. Employing a circular economy strategy led by Waterman, the 8,700 sqm office development is designed to minimise environmental impact during construction and in operation.
Waterman is working with software developer Circuland to deliver a digital platform designed to host Materials Passports data which can be linked directly with BIM models, paving the way for the creation of a UK-wide building materials stock database. The platform's transparency in material types, recycled content, disassembled materials for reuse and an online marketplace for selling materials are all expected to enhance the resource-efficient use of materials and lead to a more sustainable future in construction.
Mark Terndrup, Waterman's Managing Director for Building Services – South, commented: "With the launch of our Materials Passports Framework, we aim to drive material circularity and kick-start the circular economy throughout the construction industry with a robust process any scheme can follow. The impacts of the climate emergency are more prevalent than ever, and extending material lifespans is fundamental to minimising the embodied and whole-life carbon impact of development schemes across every sector."
For more information about Waterman's Materials Passports Framework and its pioneering role in advancing sustainability within the construction industry, please visit Material Passports – Waterman (watermangroup.com).
To request a copy of Waterman's Material's Passports Framework, please contact Waterman's Press Office: communications@watermangroup.com, or download your copy here.