Volunteer tradespeople complete project for paralysed builder in Herefordshire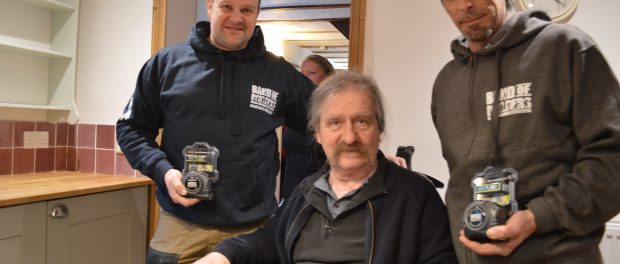 A group of volunteer tradespeople have completed a project at the home of a Herefordshire builder – who was left paralysed after a fall – in a bid to help him gain greater independence.
Band of Builders (BoB) finished the first phase of the project in October 2022 to level the flooring on the ground floor of the Almeley home of Martin Wilks. Volunteers also widened doorways to make it easier for him to move around in his wheelchair.
Recently, up to a dozen volunteers from the national construction charity – which completes practical projects to help members of the UK construction industry who are battling illness or injury – returned to install new flooring and tiling, carry out electrical work and decorate over the course of two weekends in January.
This has been the third time that BoB volunteers have answered the call to help Martin – who was left paralysed from the chest down after falling off a stepladder in June 2018 and hitting his head on a concrete planter, causing a severe traumatic brain injury.
He was initially put in an induced coma and also suffered strokes, seizures, infections, pneumonia and a lung abscess while in hospital. The 68-year-old finally returned to his home in Almeley, Herefordshire, in February 2019 after regaining some of his independence following a long period of rehabilitation.
In the same year, a team of BoB volunteers travelled to the general builder's home to install a new wood-burning stove to replace an unsafe and impractical open fire.
After the initial project, Martin's family and friends crowdfunded to build an extension and specialist wet room to help him regain his independence and live comfortably at home with his wife.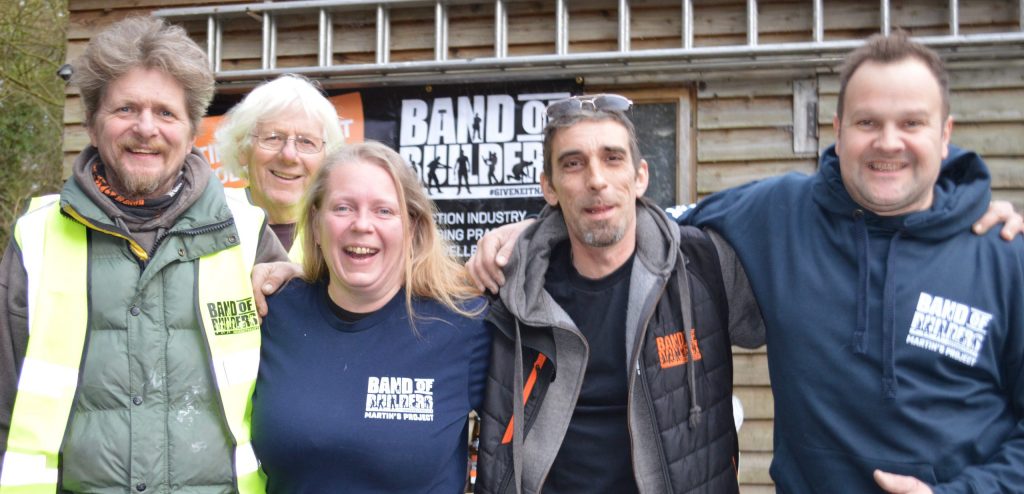 Speaking about the project to BBC Midlands Today, Martin said:
"I would like to thank the wonderful team of people at Band of Builders for the changes they have made to this house – and to our lives.

"It is amazing, and I'm overwhelmed by the team, who have come from as far afield as Newport, Somerset, Norfolk and Devon, as well as local people from Hereford."
Martin's daughter Hannah said:
"We can't thank BoB enough for its life-changing help for my dad – as he can finally regain some independence and relieve mum of her wheelchair-pushing duties. Both their day-to-day lives will be vastly improved. It's amazing what Band of Builders does."
This was the 29th project that the charity has completed since it was founded in 2016, and is sponsored by Tarmac, the UK's leading sustainable construction materials and building products business.
Garry Gregory, Packed Products Director at Tarmac, said:
"We are always proud to get involved with and support the important work of Band of Builders. The life-enhancing projects they are delivering on behalf of those who work in the industry and their families are making a real impact where it's needed most.

It's an honour to work with Band of Builders again, and we look forward to being involved in many more projects to come!"
Jake Anderson, a longstanding BoB volunteer and the project lead for this phase of Martin's project, said:
"It's a real privilege to be going back to do more for Martin. His family and friends have made an amazing effort to ensure he's got the space and facilities to allow him some independence, and we're hoping some of the changes we're making will add to that and make him even more comfortable. We can't wait to get cracking."
The charity is also backed by other major names within the construction industry, including Jewson, Gibbs & Dandy, V12 Footwear, Talasey, Resideo and Haemmerlin.
Anyone who is interested is encouraged to find out more about the charity on its Facebook page: www.facebook.com/bandofbuilders/.