Vaux housing scheme tops out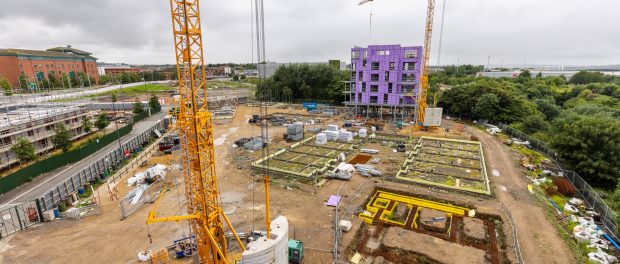 THE FIRST of four new residential developments – part of a plan to build 1,000 new homes on Riverside Sunderland – has topped out today.
Considered one of the UK's most ambitious residential developments, Vaux's new neighbourhood, which will comprise 135 new super-sustainable properties built using modern methods of construction, has reached its peak, with the tallest of the buildings – a seven-storey apartment building – now built to full height.
The structural frames, floor slabs, and external walls have been assembled by UK leader in light gauge steel framing, Remagin, who are due to complete this element of the works, which is helping to define the new city skyline, in September 2023.
The scheme represents the latest development on a fast-changing brownfield development site on the edge of the city centre.  Vaux Housing is being delivered by Sunderland City Council and development-managed by igloo Regeneration, with the ambition that Riverside Sunderland will eventually provide city centre housing for up to 2,500 residents.
The development will comprise apartments, townhouses, and maisonettes, using modern methods of construction, renewable energy systems and smart technology to reduce the carbon footprint of the development, while producing high quality, energy efficient properties in the beating heart of the city.
Patrick Melia, chief executive of Sunderland City Council, said:
"Topping out on any scheme is significant, but it really is brilliant to see our first housing scheme on Riverside Sunderland progress.  This – and the other new homes that we build in this part of the city – will bring more people into the heart of the city, spending money to support our retailers in the process, and of course, many of them will work in the offices that are currently under construction and those that already play host to a vibrant business community."
Peter Connolly, chief executive of igloo Regeneration, said:
"This is a fantastic milestone for Riverside Sunderland – a project which is a best practice example of how new homes across the country should be constructed and delivered in the future.

"Working closely with all of the partners involved to create these high-quality homes, I'm proud of our collective unwavering commitment to delivering a people and planet positive scheme that will transform this part of the city."
The majority of the homes will be built to 2025 Future Homes Standard with 21 built to PASSIVHAUS standard, delivering high levels of energy efficiency.  Included in the scheme will be a cluster of award-winning homes, that were selected as the best in the national Homes of 2030 Design Competition – which explored how homes will look and function in the future.  The competition, managed by the Royal Institute of British Architects (RIBA) on behalf of the Department for Levelling Up Housing and Communities, encouraged the design of environmentally friendly homes that support people in leading independent, fulfilling lives as society ages.  +Home, designed by igloo Regeneration with Useful Projects, Expedition Engineers and Mawson Kerr and Connector Housing designed by Openstudio with Hoare Lea, LDA Design and Gardiner & Theobald were the joint winners of the competition, and it is their designs that will stand proudly on the site, shining a spotlight on future living and showcasing the ambitious plans the council has to make Sunderland a world-class place to live, work and play.
All homes at Riverside Sunderland will provide a future living offer that will attract new and existing Sunderland residents to live in the vibrant city centre, with the properties sitting alongside the orchards and allotments of Kingsley Gardens and nearby Riverside Park, which is continuing its journey towards becoming an accessible, attractive, and ecologically diverse parkland. The Vaux neighbourhood will be the site of the Expo Sunderland in 2025, an event that will showcase homes of the future and the vibrant, aspirational lifestyle that Sunderland provides.
The first tranche of homes will be completed in early 2025.
"As a local business with manufacturing operations in Newton Aycliffe, the Vaux development, and Riverside Sunderland, is something which is obviously very close to our hearts at Remagin," said Scott Bibby, Country Manager for Remagin in the UK and Ireland.

"We believe it provides an excellent showcase for what future living could offer, and the role modern methods of construction have to play in that – providing high quality, comfortable accommodation at an affordable cost in a way which can address both the chronic housing shortage in the country, and wider environmental challenges."
Vaux housing is part of an ambitious and exciting new community at Riverside Sunderland that will include residential, commercial and leisure developments. It is part of a programme of development projects in the Riverside Sunderland area that, taken together, aim to double the residential population in the city centre and increase employment by 50 per cent and fits with the city's housing strategy, which will see 7,000 new homes built by 2030.
Vaux housing is being delivered with £6.1m of grant support from the Government's Levelling Up Fund, and £2.1m from the Department of Levelling Up Housing and Communities to support the delivery of the Homes of 2030.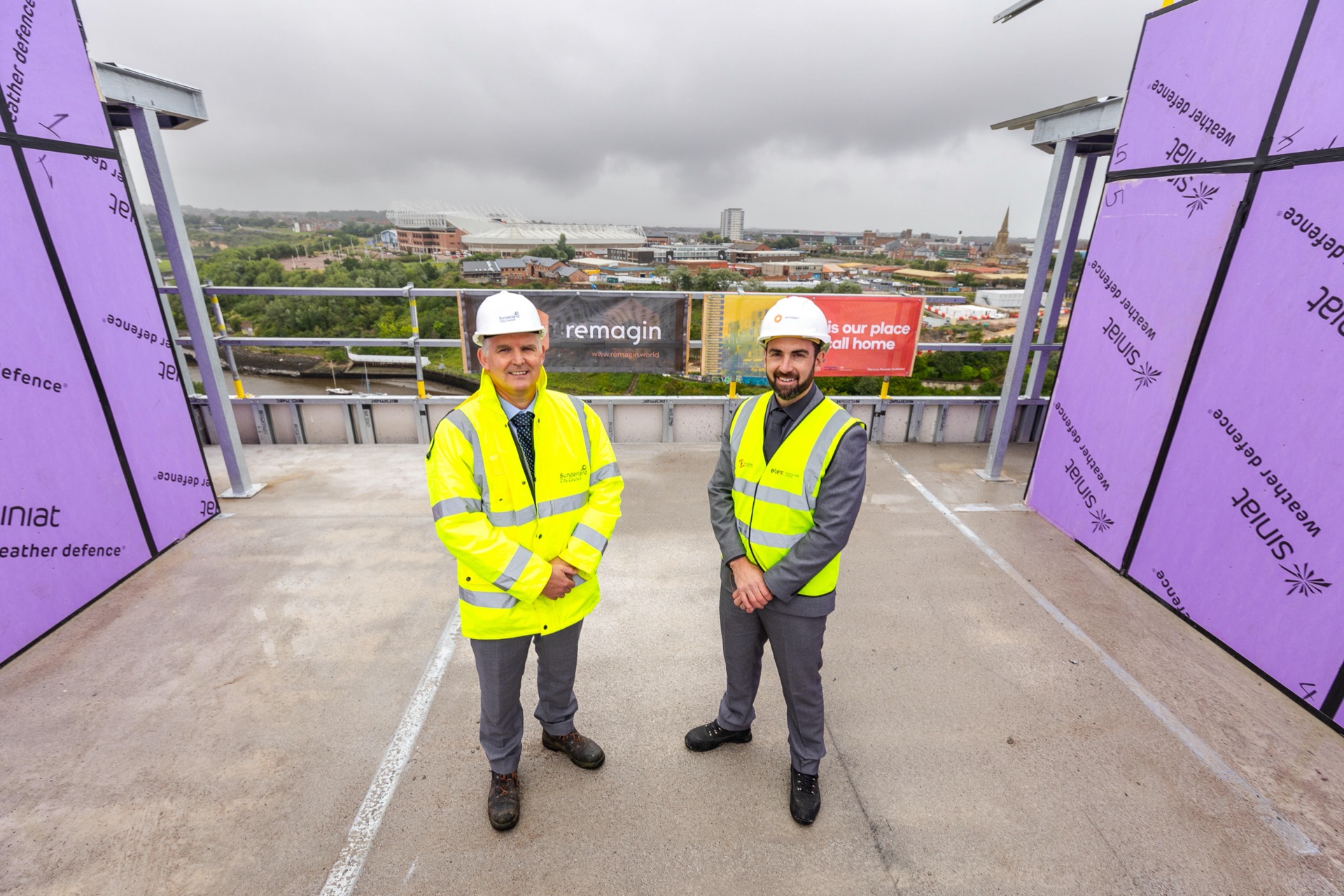 To stay up to date with Riverside Sunderland developments, visit www.riversidesunderland.com or follow @RiversideSund on social media.