Sandwell Aquatics Centre: From Commonwealth Games to Community Asset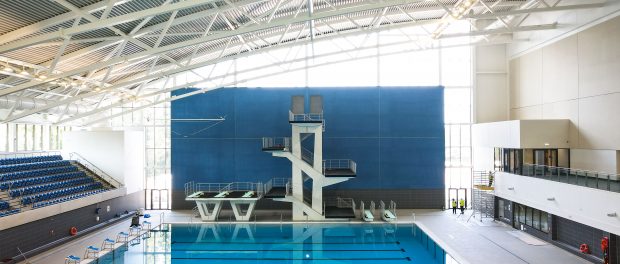 Only purpose-built venue for the Birmingham 2022 Commonwealth Games now transformed into community leisure facility
Features the first pre-cast dive tower made in the UK and a moveable competition pool floor containing up to 4.5 million pints of water
Birmingham 2022 Commonwealth Games venue, Sandwell Aquatics Centre, has officially opened its doors to the public following Wates' completion of the final legacy construction phase, transforming the facility into a state-of-the-art community leisure centre.
Wates won the contract to build the facility in Smethwick in 2018, with construction starting in September 2019. Work continued, uninterrupted, throughout the COVID-19 pandemic, with the first phases of work completed ready in time for the Games in summer 2022.
The final phase of re-adapting and transforming the venue from Games to legacy mode has now been completed and the finished building was handed over to Sandwell Council on 13 July.
The new facility will be operated for the council by Sandwell Leisure Trust which runs other council leisure centres in Sandwell.
The Aquatics Centre features an Olympic-sized swimming pool incorporating moveable floors to allow multiple uses; the only 10metre high pre-cast dive tower to be made in the UK and a 25-metre dive pool; along with seating for 1,000 spectators.
Other facilities within the centre include:
Community swimming pool (20m x 10m)
Three 150sqm activity studios hosting more than 80 classes per week
Two four-court sports halls (690sqm each)
110-plus station fitness gym
25-station ladies-only fitness gym
33-station indoor cycling studio
Changing village for up to 600
Dry diving centre with mini floor trampolines
Sauna/steam room
Changing facilities
Café
Outside will be a new urban park; children's play area; and parking for up to 400 vehicles. A new outdoor football pitch will open in 2024.
The building has been designed with accessibility and inclusivity at its heart. Facilities include a women's-only gym; submersible lifts and easy access steps into the pools; accessible changing facilities; circulation lifts to accommodate sports wheelchairs; and IFI accredited[1] equipment in the fitness gym including machines suitable for wheelchair and other disabled users.
Paul Chandler, Executive Managing Director, Wates Construction Group, said:
"It was incredible to see the world-class facilities delivered by Wates at Sandwell Aquatics Centre providing a platform for the world's greatest athletes to succeed as part of the Commonwealth Games last summer. But I am even prouder of the legacy we leave behind for the local community and the wider region.

"Sandwell Aquatics Centre is the perfect example how the construction industry can deliver far-reaching local value and opportunity through improved health and wellbeing, local employment, skills and economic investment. Not only will the Centre inspire thousands of local people to participate in sport and exercise, at all levels, for generations to come but our presence in the local area since 2018 has also enabled us to spend a total of £45.2million with local suppliers, employ over 50% of our workforce from within a 20-mile radius of the site and create 166 new local jobs."
DCMS Secretary of State the Rt Hon Lucy Frazer KC MP said:
"Learning to swim is a vital life skill and I'm delighted people in the West Midlands will now be able to follow in the footsteps of elite athletes and make full use of Sandwell Aquatics Centre.

"A year ago the Birmingham Commonwealth Games showcased the West Midlands to the world and created 40,000 jobs and skills opportunities in the area, as well as contributing at least £870 million gross value added to the UK economy. We also are building on its sporting legacy by delivering grassroots pitches and improving tennis courts across the region.

"Alongside this the Government is supporting West Midlands Combined Authority with £70 million to boost jobs and skills, fund cultural and creative projects and improve access for the next generation of sports stars."
Councillor Kerrie Carmichael, Leader of Sandwell Council, said:
"Sandwell Aquatics Centre was always designed as a community leisure facility first and tailored for use during the Commonwealth Games, rather than the other way around.

"The construction has helped create jobs for local people, local apprenticeships, and work for local businesses, and delivering the centre has been a catalyst for significant investment in infrastructure projects in Sandwell.

"The Centre will be fantastic for Sandwell people as well as the region's talented swimmers and divers. They will benefit from having a world-class facility on their doorstep for decades to come."
Ellie Simmonds OBE, Trustee for United by 2022, a charity dedicated to ensuring the legacy of the Birmingham 2022 Commonwealth Games maintains momentum, said:
"United by 2022 is thrilled to see Sandwell Aquatics Centre ready to welcome local people. It's a brilliant example of the long-term, positive impact that the Commonwealth Games continues to have for everyone in the region.

"I'd have loved a place like this when I was starting out. Whether you're a budding medal winner or just need a great place to exercise, it's an amazing facility!"
Andy Street, Mayor of the West Midlands and WMCA chair, said:
"It's wonderful to celebrate the reopening of Sandwell Aquatics Centre to the public – after this fantastic venue took centre stage throughout last summer's spectacular Commonwealth Games.

"I was determined that – beyond the sporting success – the Games should deliver a tangible benefit for local people for generations to come. That's why I'm so glad to see this first-class facility brought to life for residents to enjoy.

"Thanks to our £70m Legacy Enhancement Fund – a direct result of our successful efforts to persuade Government to enable us to retain the Games budget underspend – I'm delighted that the West Midlands Combined Authority is helping to ensure that the Aquatics Centre will be fully operational and flourishing in the months and years ahead."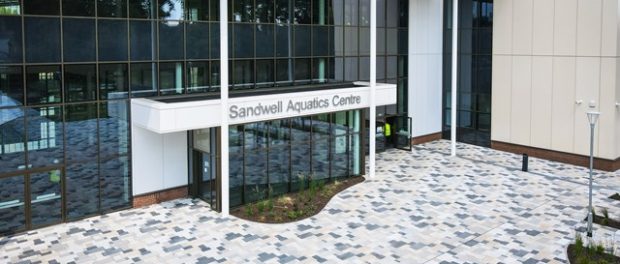 [1] An IFI Mark is the leading fitness accreditation for inclusion recognising leisure facilities commitment and inclusion of disabled people within their service provision