U+I brings forward plans for £180 million regeneration projects in Ashford
– Two new schemes across 14 acres will bring more than 800 homes and over 200 jobs to local area –
– Sale agreed on one site to deliver 400 homes for the private rented sector in partnership with Kent developer Quinn Estates –
Leading property regeneration company U+I is developing plans to bring forward more than 800 homes and new amenities across two sites in Ashford with a total GDV of £180 million. Both sites are in close proximity to Ashford International Station with direct fast trains into central London. The proposed schemes for both sites, designed by local architect, Guy Holloway, will help to create over 200 jobs for the local area and build a new community on Victoria Way, which is already benefiting from £25m of public realm investments and improved highway infrastructure.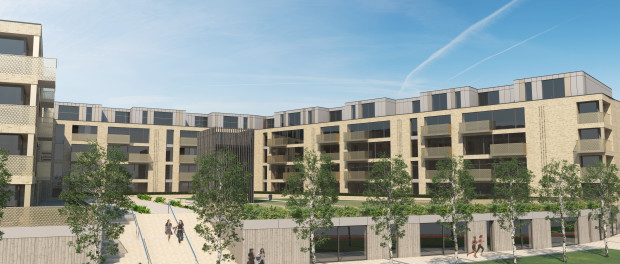 The first site, totalling nine acres, is located next to Victoria Way on the former Powergen site. U+I, in partnership with Canterbury-based mixed use developer Quinn Estates, has submitted plans for a total of 660 homes to be developed. It has also exchanged contracts with Neighbour, a specialist residential partner, to deliver 400 of these as modern stylish homes for the private rented sector (PRS). These homes will be of high-quality Scandinavian design and will offer affordable long-term rents. This strategic regeneration project will help to link Ashford town centre with Victoria Park to the south, creating a new residential community and breathing life into a long unused site.
An expert in working with public partners on its developments, U+I has also exchanged contracts subject to planning to acquire a second site, located opposite Ashford International Station, from the Homes and Communities Agency. Almost six acres in size, a masterplan is currently in progress for a significant regeneration project that will house approximately 200 residential units, a 120-bed hotel and an Aldi food store. U+I aims to submit a planning application in April 2016.
Along with the college, commercial quarter offices, town centre cinema and designer outlet expansion, these sites will play a key part in the changing face of the town centre in the coming years – these are exciting times for the town."
Mark Quinn, Managing Director of Quinn Estates: "I am delighted to be working with U+I in transforming a long derelict parcel of land into a scheme that we can all be proud of. This scheme will deliver massive economic, social, community and environmental benefits to the local area and with a deal signed with the PRS provider Neighbour, we are in a position to start building quickly so that the benefits can be delivered."