Trainee trio joins masonry manufacturer on management graduate scheme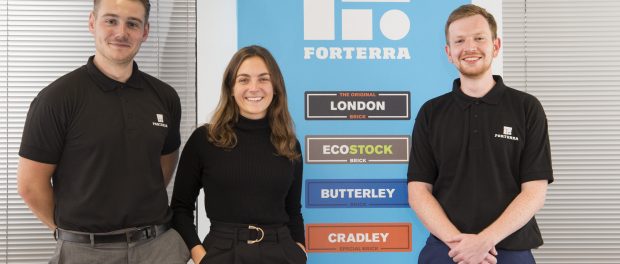 Building products manufacturer Forterra has welcomed three graduate trainees on board in diverse roles across its divisions.
Nia Lewis (22), Alex Trengove (21) and James Ratcliff (23) have recently been taken on as part of the company's two-year Operations Management Graduate Scheme.
Nia, from North Wales, has joined Forterra's quality team after graduating from the University of Sheffield with a 2:1 BEng in Civil Engineering. She will be working under Technical Operations Manager James Jeffcott across several of the company's sites, with her first project at the firm's Hams Hall plant in the West Midlands.
Nia said: "I'm really looking forward to taking on projects to continually improve the quality of products we manufacture by refining, testing and developing further the processes used.
"The manufacturing industry is new to me; however, with my civil engineering background, problem solving is not. I enjoy learning so I'm excited about spending the next couple of years of the graduate scheme learning about this industry and gaining hands-on experience."
Alex, from Olney in Buckinghamshire, has taken a position in the firm's central engineering team based in Measham, Leicestershire. He graduated from Coventry University with a 2:1 BEng in Manufacturing Engineering. Like Nia, Alex's role will see him travel between Forterra's sites whilst undertaking a range of projects, overseen by Engineering Manager David Fox and Engineering Group Manager Stuart McQuillan.
Alex commented: "I'm looking forward to spending time in different areas of the company and deciding from there where I'd like to specialise in the future."
Mickleover-born James will be working under Contracts & Logistics Manager Nick Clark across the company's operations and commercial teams, predominantly within its Bison Precast concrete division. His base will be Bison's Swadlincote site, while his first project will take him to the Hoveringham plant.
As part of James' BA degree in International Business at Nottingham Trent University, which earned him a 2:1, he completed a placement year at pharmaceutical company eResearchTechnology.
James explained: "My aims for this graduate scheme are to try and learn as much as I can, both about the business and the industry we operate in. I plan to make a success of each of my projects and hopefully transfer the skills I learn, so that when I finish my scheme I can apply these to a permanent role, which I hope to obtain with Forterra."
Outside work, the three trainees share a love of sport: Alex plays field hockey, Nia enjoys lacrosse and the outdoors, while James divides his time between playing rugby, football and golf.
Stephen Harrison, Chief Executive of Forterra, said: "As a forward-thinking company we're always on the lookout for talented employees, and our graduate scheme is a proven method of securing skilled workers as they embark on their careers.
"I'd like to personally welcome James, Nia and Alex to Forterra and wish them all the best over the next two years and beyond."