'There is no single career path for everyone, but it's about encouraging people to choose the route that's right for them and their future'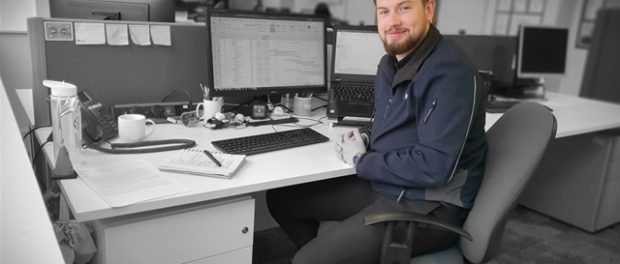 Skills shortages across the UK's built environment mean the industry could face very real difficulties in the future. If it can't keep up with demand for recruits' vital projects could fall to the wayside, impacting future generations. These projects include crucial upgrades to the UK road network that could be decreased if more skilled workers aren't found.
Walsall-born Owen Smith is an apprentice at Kier Highways and this year he has been shortlisted for a prestigious Chartered Institution of Highways and Transportation (CIHT) Apprentice of the Year Award. This award celebrates the achievements of apprentices who work in the highways and transportation sector, and the organisations that put them at the heart of their business.
Here, Owen talks about why Highways was his career of choice, why it's important to promote the industry to the next generation, being nominated for a national award and where he is hoping his career takes him.
"I work for Kier Highways as an apprentice project manager in the technology team. I joined Kier Highways in 2017 after leaving Stuart Bathurst Catholic High School where I studied Business, ICT and Sport. My school encouraged its pupils to go to university and I was one of the few that aspired to obtain an apprenticeship. Throughout my schooling, no one had ever spoken to us about doing apprenticeships or about opportunities in the built environment.
I researched apprenticeships myself and decided that having the opportunity to get experience and a qualification whilst earning money and beginning my career is something that really appealed to me. I also felt that having the guidance from experienced professionals early on in my career would help guide me in the right direction and give me a greater understanding of the industry.
Before looking into apprenticeships, I had the typical preconception that work in the built environment would be muddy and manual, and I wasn't aware of the vast amount of opportunities available alongside that. Throughout the application process, I was looking into Kier and found its ethos as a company interesting; it was engaging, informative and the opportunity was perfect for me.
It was this preconception that made me realise how important initiatives like Kier Shaping Your World™ are. Engaging with the next generation is vital to keep this industry moving and performing; I learn so much from the people I work with and when they move on or retire, I do worry about who will take their place.
When I joined Kier, I was a Business Support Apprentice, which largely consisted of project administration duties; it was during this time that I learnt more about the sector and developed an interest in project management.
Since working at Kier I have been given several opportunities to progress with the full support of my line manager and senior leaders in my team. I now deliver and manage my own scheme, the Emergency Technology Works on the West Midlands Area 9 network, ensuring that faults are rectified to keep the travelling public safe and informed. This ranges from minor electrical defects to emergency cable rectifications which cause the Regional Control Centre to be unable to manage parts of the network.
A large part of my job requires communication with stakeholders, programming works, monitoring progress, preparing budgets, controlling costs, liaison with the client and allocating road space to sub-contractors to carry out these remediation works.
Alongside the successful delivery of projects, I've recently completed my associate project manager level 4 course which means I will progress onto a new position and be enrolled on a project management level 6 degree course at University. Kier has supported me throughout this course, which has been hugely beneficial to developing my understanding of project management and that this is the correct career path for me.
Attending industry events is always enjoyable. It gives me the opportunity to network with likeminded people and also to promote the highways industry and the wider construction sector as a career path. I took part in National Apprenticeship Week, which involved travelling up to Bolton to an apprenticeship jobs fair, where I was able to talk to secondary school and sixth form students about the benefits of enrolling onto an apprenticeship, as well as encourage others to consider it as a route into their careers. No one route is right for everyone, but it's about encouraging people to choose the route that is right for them and their future.
I thoroughly enjoy the sector and area I work in and feel very lucky to have been given the opportunity to explore this route. Working alongside such knowledgeable people who constantly challenge and push me has been really inspiring and I'm so grateful to them. Being shortlisted for a national award so early in my career is incredibly rewarding and motivating, feeling valued and acknowledged for the work I've been doing and my commitment to Kier and the technology team has been great. Being early in my career, it can be difficult to know if I'm making the right choices but having this support around me has really helped and I'm sure this industry is one I'll be in for a very long time."